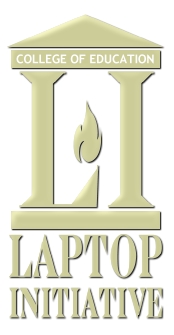 College of Education Laptop Initiative

Agreement for the Use of Laptop Computers for the Explorers Laptop Initiative

We welcome you to the Explorers Cohort--Laptop Initiative. The Explorers are a team of committed elementary education preprofessionals who recognize the importance of the integration of technology throughout their program. The duties and responsibilities as listed below will maintain your membership in the Cohort. Should you choose to leave the Cohort before the end of the two year period, all equipment on loan reverts back to the Deans Office and its inventory. In order to use this equipment off-campus, it will also be required that you complete an Off-Campus Use Permit annually. This form will be provided by the Dean's Office.

The duties, responsibilities and benefits are listed below.

Benefits

Loan of a new Mac Laptop for five semesters
Specialized training in Mac laptops
Specialized internship training for use of computers in the classroom
Technical support through FCIT
Repair and maintenance of laptops through FCIT
Training and support in the development of an Electronic Portfolio
Special placement in Level I and Level II internships
Use of Electronic Portfolio as a graduation requirement
Special recognition and letters of recommendation for participating
All software, battery, carrying case, and wires are provided
The laptop will have an airport card installed for wireless internet use throughout the Colleges buildings.
Able to meet the new Department of Education Technology Standards
Duties and Responsibilities
Complete the program in five semesters.
Be flexible in schedule. There will be 2-3 courses a semester that will be scheduled. You will have freedom to develop the rest of your schedule.
Be willing to engage in surveys and questionnaires.
Be willing to bring the laptop to all classes and internship schools involved in the project.
Maintain the laptop in good working condition and agree to reimburse the University of South Florida for any damages or loss resulting from the user's negligence.
Use the laptap only for official University business unless otherwise approved and all costs associated with any other use are the sole responsibility of the user.
In the event that costs are assessed, the costs are to be considered owed to the University and they will be handled as all debt or fees.

Initials______________Date__________

I understand that the equipment/software package is on loan to me for the duration of the two year program period. Requirements for maintaining membership in the Cohort includes schedule flexibility each semester where the department will provide a partial schedule of technology-infused courses (2-3 courses a semester). I have read and understand all of the above duties and responsibilities and agree to be bound by them.


Name of Student __________________________ Date __________________

Return to Explorers Homepage