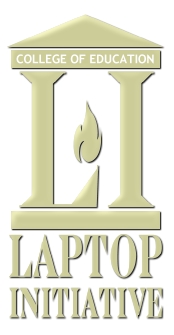 College of Education Laptop Initiative
Section One: Program Overview
Section Two: Intern Reflections
Section Three: Research Iniatives
Learning to Use Apple Laptops Computers in Cohort Education Classes: Instructors' and Preservice Teachers' Concerns and Accomplishments.

Recently, the Department of Childhood Education in the College of Education at the University of South Florida, received 35 Apple laptop computers as part of a partnership between the College of Education and Apple Corporation. The grant stipulated that a cohort of preservice teachers and their instructors would receive training in operating the computers and would use the computers during course activities over the next two years. This is a new initiative for the College of Education at USF. Therefore, the objectives of this study are to: 1) investigate how instuctors learn to integrate Apple laptop computers activities into their preservice teacher curricula over the course of five semesters; 2) determine what concerns the instructors and their preservice teachers experience using laptop computers; 3) investigate in what ways the instructors and preservice teachers use the computers for instructional and personal use, and 4) provide opportunities for preservice teachers to engage in action research projects as they investigate their ongoing proficiencies using laptop computers in university-based courses and in authentic teaching/learning contexts.

Studies that examine computer activites in classrooms have been limited (Kamil & Intrator, 1998). Moreover research ahs overlooked preservice teachers as one of the many interacting variables that might ingluece technology initatives (see Reinking & Watkins, 2000). Yet, what preservice teachers learn and perceive about using technology in university classrooms and in authentic school contexts has the capacity to positively or negatively impact their use of computers throughtout their professional lives (See the National Technology Standards for Teachers and Teacher Prepartation, 2000). Therefore, "pursuing such knowledge [about preservice teachers] is increasingly important given the growing availability and use of technology in schools" (Reinkning & Watkins, 2000, p.387). In addition, little research has examined how university instructors perceive and come to understand new technology. For example, the two instructors in this project are familiar with IBM compatible computers, but they are just learning how to operate Apple Laptops.

The principal researcher (Dr. Janet Richards) will collect data from the preservice teachers through weekly narratives and teaching cases. The preservice teachers will e-mail their weekly narratives to Dr. Richards. The preservice teachers will also turn in their two teaching cases to Dr. Richards (one at mid-semester and one at the end of the semester). Dr. Barry Morris (Co-Principal Investigator) will collect data through observation field notes, and video taping. Dr. Richards will collect bi-weekly narrative data from two instructors in the project (Dr. Morris and Kimberly Schwartz, doctoral student and teaching assistant). The preservice teachers will document their own practices by reflecting upon the content of their narratives and teaching cases.
Section Four: Key Websites