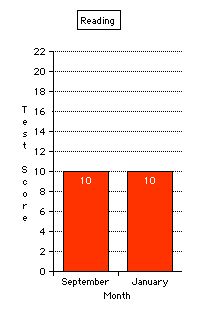 Use Appleworks spreadsheet to allow your students to graph their progress through the year.
Objectives
Students understand and use the tools of data analysis for managing information to analyze real-world data to recognize patterns and relationships of the measures.
Students use statistical methods to make references and valid arguments about real-world situations.
Procedure
Prepare (or edit the one provided) a template that generates a graph after students enter their data.
Give assessments three times a year and allow students to enter the data.
Teach students to look at their strengths and weaknesses and to make goals to improve based on what the data shows.