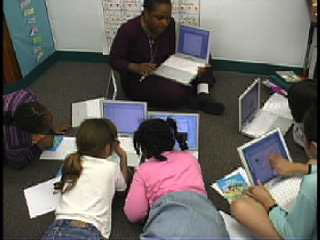 Listen to and watch books using iMovie.
Objectives
Students will develop their reading skills by reading along with the movie.
Procedure
Scan the pages of a student-created book.
Import the scanned images into iMovie.
Record yourself or a student reading the book into iMovie.
Have students watch the movie and read along with the text as the movie "reads" the book.
Sunshine State Standards
LA.A.1.1.2
LA.A.1.1.3
LA.C.3.1.1
NETS Profiles for Technology Literate Students
Use input devices (e.g., mouse, keyboard, remote control) and output devices (e.g., monitor, printer) to successfully operate computers, VCRs, audiotapes, and other technologies.
Use a variety of media and technology resources for directed and independent learning activities.
Create developmentally appropriate multimedia products with support from teachers, family members, or student partners.
Use technology resources (e.g., puzzles, logical thinking programs, writing tools, digital cameras, drawing tools) for problem solving, communication, and illustration of thoughts, ideas, and stories.
Materials
iMovie
Scanner
Classroom book or student-created book
Alternatives/Extensions
Students can also learn to make their own talking books.
Publish the books on a website.