iPhoto allows you to back up your photos by copying them ("burning") to a CD or DVD, depending on what kind of drive you have on your computer. To copy images to a CD or DVD, first make sure you have some blank media in the drive, and that the media matches the capabilities of your drive (you can't burn a DVD of your images if you only have a CD-R/RW drive).
Once you have the correct blank media in the drive, select and album or roll in iPhoto and then select Share, Burn.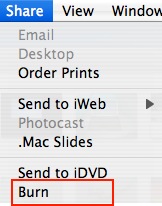 In the dialog box that opens, click on the downward pointing arrow next to your CD drive's name to see all the options available.

If you check the box next to "Leave disc appendable", you will be able to go back and add images to it at a later date.