A web gallery consists of a web page that displays thumbnails of the pictures you select to export in iPhoto. The webpage also allows the person viewing the gallery to click on a thumbnail to open a larger version of the picture.
iPhoto integrates well with iWeb, the new web design program included in iLife 06. iWeb includes many templates for creating web pages and publishing them to the web using a .Mac account.
To share your pictures as a webpage using your .Mac account and iWeb:
Click on the iWeb button in the toolbar and select Photo Page.

Select a theme from the list on the left when iWeb opens and click on the choose button.

Drag the pictures around until you have them in the order you want.

Change the text in your page by clicking on it once to select it and then typing in the text you want on your page.
Once you are happy with your layout and entered your text, select File, Publish to .Mac.
If you do not have a .Mac account, you can still create a web photo gallery by choosing File, Export, then clicking on the Web Page tab.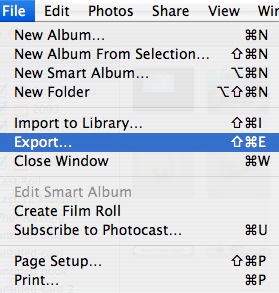 You can set some options in the dialog box that opens up, such as the title for the web page, the background and text colors, and the number of rows and columns used to display thumbnails.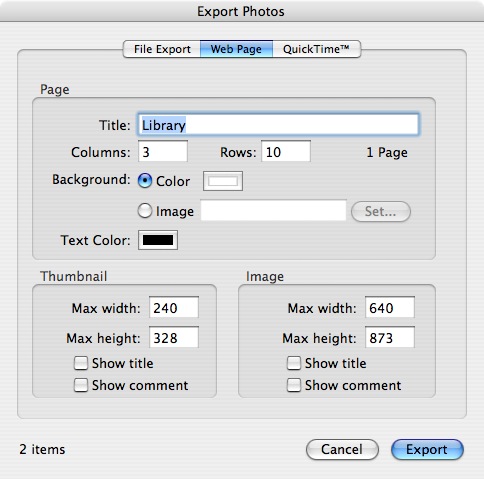 You can also change the size of the thumbnails displayed on the page as well as the size of the larger versions that will be displayed in the browser when the visitor to this site clicks on a thumbnail.
Once you have set all of your options, click on Export and then provide a location where you want to save your new pages. iPhoto will create all the web pages needed for the web photo gallery, as well as folders to hold the thumbnail images and the full size images. You can then upload this folder to your web hosting provider to make your web photo gallery accessible over the Web.