Before you can work with your photos in iPhoto, you must first import them as follows:
Connect your digital camera to your Mac using a USB cable. Turn the camera on and set it to the correct mode for playback (this will vary by model).
iPhoto will automatically open in Import mode. You will see a camera icon in the main window and below that iPhoto will tell you how many photos you can import from the camera.

Provide a name and description for your roll (all the photos to be imported in one session) in the fields provided.

You can click a checkbox at the bottom of the window if you wish to delete the photos from your memory card once they are downloaded from the camera.

Click on the Import button to begin importing. You can stop the process at any time by clicking on the Stop Import button.
If you want to import photos from a memory card connected with a USB card reader, you can do so by selecting File, Add to Library (or Import to Library).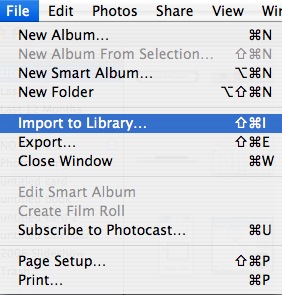 This will open up a Finder window so you can locate the drive or folder containing the photos you want to import.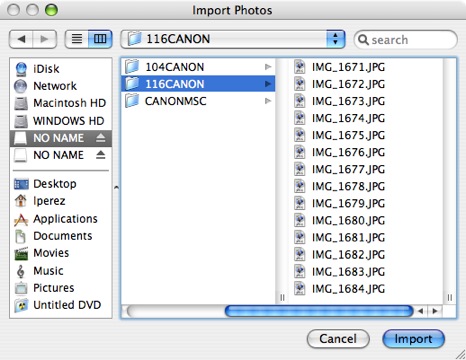 You can also just drag a folder from your hard drive into the iPhoto viewing area (or its icon in the Dock) and a new roll will be created with the name of the folder. New rolls will be created for each subfolder if your folder is organized using subfolders.
Yet another way to import photos into the iPhoto library is by downloading them from the Web. While you are on a webpage that has an photo or other image you want to import into iPhoto, control-click (or right-click if you have a mouse) on the photo and select Add Image to iPhoto library.