iPhoto allows you to create albums that can be used to organize pictures by categories.
To create a new album:
Choose File, New Album (or click on the Add (+) button near the bottom left corner of the iPhoto window).

If you clicked on the Add (+) button, select Album from the pulldown menu and provide a name for your album.

Click on Library and then drag pictures to your new album in the Source list on the left. You can also add pictures to an album by:

a. selecting a few pictures and then choosing File, New Album from Selection, or

b. Dragging a folder of pictures from a Finder window into the Source list.
You can also create folders to group all the albums, slideshows, and books that go along with a specific event or trip, etc. To create a new folder, select File, New Folder.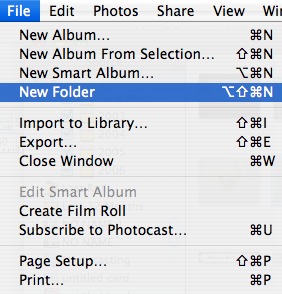 You can then drag your albums, slideshows, and books into the new folder to keep them together in your source list.
iPhoto allows you to tag pictures using ratings and keywords. To quickly assign a rating to one or more pictures, select them in the main window, then control click (or right-click) and select My Rating.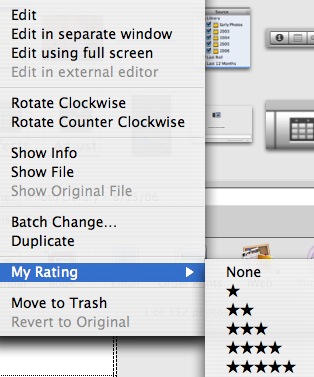 You can then assign a rating based on the number of stars. A quicker way to assign a rating is by selecting the picture you want to tag and then holding down the Command key on your keyboard while you type a number from 1 to 5 (for the number of stars you wish to assign to the picture). You can also choose Show Info, then the Keyword tab to assign keywords to the pictures.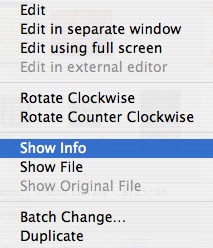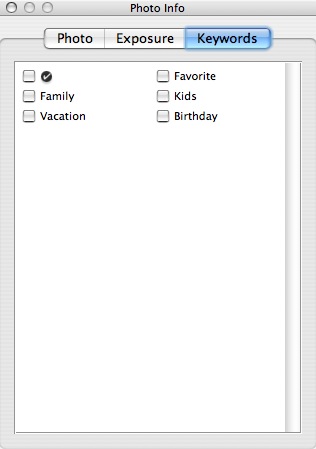 Once you have assigned keywords to your photos, you can click on the keyword button below the Source List to find photos using the keywords you've assigned.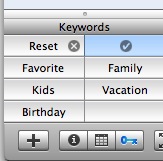 You can display the ratings and keywords for your pictures by choosing the appropriate option from the View menu.