The iPhoto interface consists of four main areas: the Source list, the Info/Keywords/Calendar area, the Viewing area, and the Toolbar. The Source List displays any albums, slideshows, or books you've created. Your iPhoto Library will be listed at the top of the Source List. The Library contains all the photos you have imported into iPhoto. If you click on the triangle to the left of the Library, you can expand it so that you can see your photos organized by year. The last roll item displays only the last set of photos you imported from your digital camera or from a folder or drive on your computer.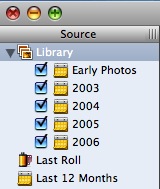 The Info/Keywords/Calendar area can be used to perform different actions depending on which button you select.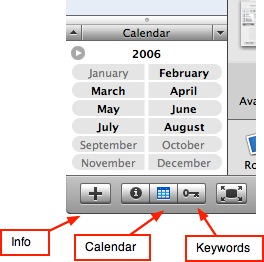 The "i" Info button will display information about your photos, such as their dimensions and file sizes. The Calendar button allows you to find photos by date, while the Keywords button allows you to find photos by searching for one or more of the keywords you've assigned to them.
The Viewing area is where you will see the photos in your collection, displayed as thumbnails. You can open a photo from the Viewing area to edit it by double-clicking on it. You can also control-click (or right-click) on it and select Edit in separate window if you want to have more space to work on it. When you double-click on an image to edit it, the Viewing area will also display a narrow band of thumbnails at the top, with the current photo selected in blue.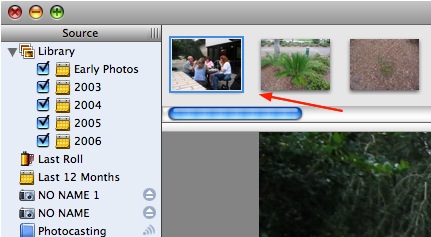 To change the size of the thumbnails displayed in the Viewing area, use the slider at the bottom of the iPhoto window.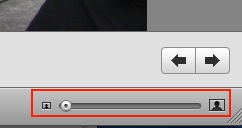 You can determine what information is displayed underneath your photos in the Viewing area by selecting the appropriate option from the View Menu (you can view titles, keywords, or ratings you have assigned to your photos. You can also use the View menu to sort your photos in different ways.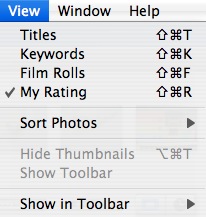 The Toolbar displays buttons for the most commonly performed tasks in iPhoto. Many of these options are also avaiable from the menus in the menu bar at the top of the iPhoto window. The Toolbar will change depending on the task you are trying to perform. For example, if you're editing a photo the Toolbar will change to display buttons that allow you to Crop, Enhance, or Retouch your photo.

If you're working on a Slideshow, the Toolbar will display only Slideshow options.