Hello is a free companion program to Picasa that allows you share pictures using chat. In order to use Hello, you must first set up a free account by visiting the Hello website, then install the program on your computer. Once you have Hello installed, you and a student can use it to view the same picture while entering comments in a chat window.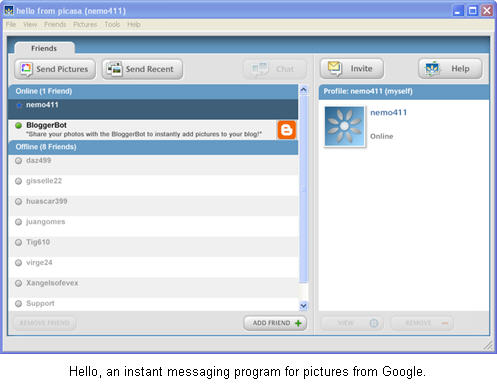 When you use Hello, any pictures you receive are automatically saved to a folder on your computer (under My Pictures, Hello). They are also added to Picasa as a folder in your From Hello collection in the folder list.
Hello works like most chat programs. You log in and then select a friend from your Friends list that you want to share pictures with.
This will open up a chat area where you can enter your comments on the right and click on Send or press Enter to send your message. To share a picture, you click on the Send Pictures button, then select either Picasa or Windows Explorer to find the pictures you want to send. Picasa will display a window on the left where you see two views: one for the picture you are currently looking at, and a smaller window that shows the picture the person on the other end is looking at. You can use the scroll bar below this window to look at other pictures.