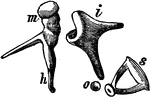 Bones of the ear, including the hammer (m), the anvil (i), and the stirrup (s).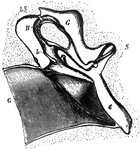 The middle ear and its bones, considerably magnified. Labels: G, the inner end of the external auditory…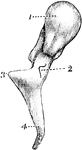 The hammer-bone or malleus, seen from the front. 1, the head; 2, neck; 3, short process; 4, long process.