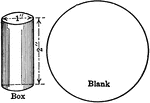 Sheet metal blank for making a cylindrical box with a diameter of 1 inch and a height of 2 inches.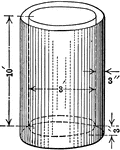 Cylindrical water tank with a height of 10 ft., thickness of 3 inches, and diameter of 3 feet. The diagram…

Cross section of Pullman car water tank. The diagram can be used to find volume.