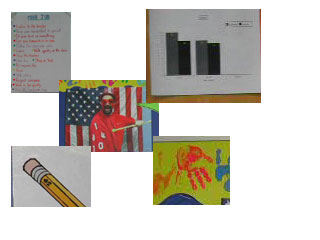 Students will create puzzles of familiar classroom objects and activities.
Objectives
Students will match visual attributes by completing puzzles of known objects.
Procedure
Take pictures in the classroom of objects, students, and activities throughout the day.
Print them and cut them apart to create small puzzles.
Have the students put them back together.
Sunshine State Standards
NETS Profiles for Technology Literate Students
Use input devices (e.g., mouse, keyboard, remote control) and output devices (e.g., monitor, printer) to successfully operate computers, VCRs, audiotapes, and other technologies.
Use technology resources (e.g., puzzles, logical thinking programs, writing tools, digital cameras, drawing tools) for problem solving, communication, and illustration of thoughts, ideas, and stories.
Communicate about technology using developmentally appropriate and accurate terminology.
Materials
Alternatives/Extensions
The students can glue their completed puzzles onto paper and write about them.