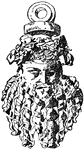 The Bacchus Mask (Greek God of wine) is a Graeco Italic style. It is a fragment of a vessel or utensil.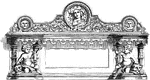 This side-board is made out of mahogany, traditionally used in the dining room for serving food. It…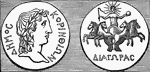 This medal with two images which seem to honor the sun. Apollo is pictured on it.