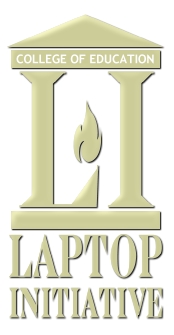 College of Education Laptop Initiative
College Of Education Laptop Initiative Fall 03: Pilot Cohort 8/4/03


1. Background

Across the country mobile computing (i.e., availability of wireless laptops) is transforming the way teaching and learning occur. Portable computers make "anytime, anywhere" learning possible in a way that standard approaches to education cannot. A growing number of universities require a laptop computer for new students enrolled in their programs. Students become engaged as active agents in the educational process, resulting in benefits to the university learning environment and educational outcomes.

The culture at the USF College of Education has historically had strong support for technology both in infrastructure and pedagogy. Since digital technology is so essential to 21st century life and learning, the Technology Committee decided to support the evolution of learning within a wireless laptop environment. The COE Technology Committee has examined the curricular, technical and financial issues involved in requiring all students to use laptop computers. Based on the Committee's work, which included surveying faculty and students, members recommended a one-year pilot program to be scheduled during the 2003-2004 academic year. The eventual goal is to require all incoming students pursuing a degree leading to certification in the College of Education to use laptop computers.

2. Project Goals
To effectively integrate technology in the university classroom and meet the requirements of "No Child Left Behind."
To prepare teachers to appropriately and effectively integrate technology in their classrooms in order to improve teaching and learning in all curricular and academic subjects.
3. Pilot Project
Description
A pilot cohort of students seeking an elementary education degree received (on loan) the latest model of "iBooks" (wireless laptops), fully loaded, including "iSight" videoconferencing equipment and software. All participating instructors received the same setup. All instructors and students were trained in the use of this technology and in the appropriate and effective integration of this technology in the curriculum. Onsite technology support was available throughout the entire project. Each student and participating instructor received a free ".mac" account allowing them to create their own website and storage area on Apple servers.
Timeline
03-04: Pilot cohort in elementary education.
04-05: Continuation of cohort #1 and extension to other programs.
05-06: Continuation of pilot.
4. Benefits to College of Education Students (Pre-Service Teachers)
Extended opportunities in active learning, anytime, anywhere. The walls of the classroom or the resources of the community do not limit learning.
Experiencing the freedom of wireless technology.
Increased opportunities for independent learning and independent thinking (e.g., learning how to do research through websites).
Increased ease of access to electronic resources and to university resources.
Decreased reliance on computer labs, where students compete for lab time.
Developing technology fluency and, consequently, their 21st century skills.
Being able to access other students and the professor at all times. Learning in an online community of practice is more personal, thoughtful, and social.
Being able to provide a great deal of support, praise and assistance to each other via the net.
Easier communication with a variety of audiences, not just limited to the university.
Endless opportunities for collaboration (e.g., newsgroups as well as e-mail, listservs, cross-posting with other class newsgroups).
Increased interaction and collaboration at any time of day.
Increasing their writing, editing and publishing skills through use of computers.
Creating, exploring, and collecting their own ideas, work, and knowledge in a more fluid manner.
Extended opportunities to pursue online courses or other online credit earning activities.
5. Benefits to Faculty
Offers faculty new and creative ways to teach content material and expanded research opportunities.
Establishes communities of inquiry for students to collaborate with community members.
Allows them to keep abreast of emerging technologies and their uses with curriculum/students.
Access to experts (e.g., opportunities for students to "talk" to authors of books assigned as class reading).
Increased opportunities for research and publication in a cutting edge area (see #7 for details).
Use of technology as an alternative form of assessment; another method of monitoring and evaluating student progress.
Access to the latest advancements in educational technology.
Faculty can actually demonstrate to students how to integrate technology and instruction.
Increased potential for interaction with students.
Makes it possible to post lesson plans and other instructional tasks.
6. Benefits to College and Institution
Creates positive change in the university culture increases meaningful communication.
Bridges the digital divide, bringing the university in tune with 21st century skills.
Places the institution and college at the cutting edge of instructional trends.
Places the college in a leadership position in terms of integration of technology in teaching and learning environment.
Develops a student body that is more actively engaged with historical and current issues and more creative in finding solutions to real world issues.
Increases enrollment in online courses or other online credit-earning activities.
Decreases reliance on computer labs, where students compete for lab time.
Increases potential for collaboration with other institutions to examine change in the classroom.
Increases student retention.
Increases applications for admission.
Increases levels of parent satisfaction.
Increases instructional effectiveness and responsive learning environment.
7. Possible Project-Related Research Topics
Investigating the effect of wireless laptop technology on the teaching and learning process in elementary teacher education.
Exploring efforts to disseminate pedagogic applications of wireless laptop technology into pre-service education.
Examining possibilities and implications offered by videoconferencing (using "iSight") in a pre-service learning environment.
Exploring the long-term impact of wireless technology on pre-service teachers' performance in the classroom.
Resources used:
COE Technology Committee Report (Berson, Ferron).
"Laptops and Learning," Gary S. Stager website, www.stager.org/articles
"School is More Than a Place -- Laptops in Teacher Education," Gary S. Stager website, www.stager.org/articles/highered/laptops.html
2003 Florida StaR Chart.
iBook article by Tina Stoneburner, parent of a child in Henrico School District, Virginia, published 6/9/02.
University of Austin report.