This late 19th century misses dress is designed with lace trim. It has puffed sleeves, and a fitted…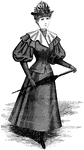 This is a Late 19th century winter dress. It includes a hat with a ribbon in the center.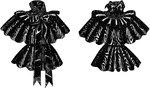 This cape wrap is a late 19th century dress with a bow in the front and back.