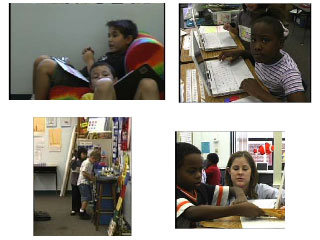 Use a digital camera to take pictures of daily events to have students sequence.
Objectives
Students will sequence familiar daily events.
Procedure
Take pictures of the students doing daily activities and routines, such as lunch, morning routine, centers, etc.
Take 3-4 pictures of each activity.
Print the pictures.
Have the students cut out the pictures and sequence them appropriately.
Sunshine State Standards
NETS Profiles for Technology Literate Students
Use input devices (e.g., mouse, keyboard, remote control) and output devices (e.g., monitor, printer) to successfully operate computers, VCRs, audiotapes, and other technologies.
Use a variety of media and technology resources for directed and independent learning activities.
Use technology resources (e.g., puzzles, logical thinking programs, writing tools, digital cameras, drawing tools) for problem solving, communication, and illustration of thoughts, ideas, and stories.
Materials
Alternatives/Extensions
Have students write sentences about each picture and create a book about their school day.