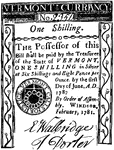 One Shilling (1 shilling) Vermont currency from 1781. Image of thirteen rings surrounded by the inscription…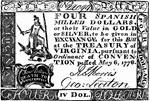 Four Dollars ($4) Virginia currency from 1776. Image is the new Coat of Arms for the State of Virginia.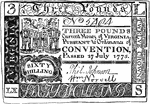 Three Pounds (3 pounds) Virginia currency from 1775. Copper-plate notes as illustrated, each value different.