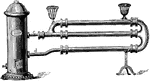 This gas boiler consists of a heating coil of pipes arranged above one or more bunsen burners inside…
Illustrated is an early Yankee plow. It is made of wood and the moldboard protected by iron nailed on.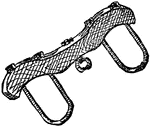 The frame of wood by which two oxen are fastened together for drawing.