Make a Contribution to the USF College of Education's Lit2Go Project
The University of South Florida's Lit2Go program is a collection of audio books in MP3 format that may be played on a computer or any MP3 player. This collection is currently used by thousands of students around the world and is available to anyone with access to the Internet to download and listen to hundreds of Lit2Go audio books at no cost to them. With the advent of the iPad and other e-book readers, it is now possible to create electronic publications or "epubs" that combine the printed page with spoken text. This combination is helpful in the classroom and for those who are trying to learn or improve their English on their own.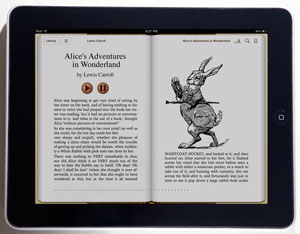 Personalize a dedication page
We hope you will consider making a difference in the lives of students in Florida and around the world by supporting the College's effort to convert all of our existing audio-only publications into audio and text epubs. A gift of $500 to support the Lit2Go Program will give you the benefit of creating a personalized dedication page at the beginning of the e-Pub of your choice.
Make a Donation in Any Amount
The USF Foundation will gladly accept contributions of any amount to enhance and expand the Lit2Go program and iTunes U collection.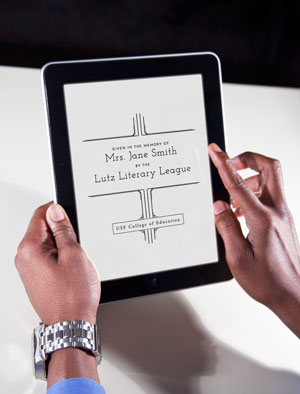 For more information about supporting the Lit2Go Programs and our epubs please contact: Georgia Mackenzie at .

The donor's dedication page shall appear with the EPub audio book for a period of time coextensive with the time USF shall offer the Lit2Go program. The content of the dedication page shall be subject to approval of USF.