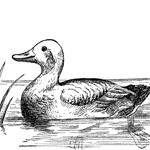 This is a collection of poetry by African American author Paul Laurence Dunbar. Dunbar's work frequently features a conversational tone, innovative rhetorical structure, and a colorful use of both dialect and mainstream English. Dunbar was among the first nationally successful African American writers.
Source: Dunbar, P.L. (1913). The Complete Poems of Paul Laurence Dunbar. New York: Dodd, Mead, and Company.
"Duck come switchin' 'cross de lot"
"When winter covering all the ground"
"I stand above the city's rush and din,"
"With what thou gavest me, O Master,"
"The moon begins her stately ride"
"Driftwood gathered here and there"
"Kiss me, Miami, thou most constant one!"
"Ring out, ye bells!, All Nature swells"
"It's hot to–day. The bees is buzzin'"
"When summer time has come, and all"
"The sun hath shed its kindly light,"
"The November sun invites me,"
"Like the blush upon the rose"
"'Tis an old deserted homestead"
"Thou arrant robber, Death!"
"How sweet the music sounded"
""Break me my bounds, and let me fly"
"The sun is low, The waters flow,"
"Poor withered rose, she gave it me,"
"You bid me hold my peace"
"No matter what you call it, Whether genius, or art,"
"Dream days of fond delight and hours"
"A cloud fell down from the heavens,"
"My lady love lives far away,"
"How shall I woo thee to win thee, mine own?"
Dunbar, P. (1913). Miscellaneous Poems. (Lit2Go ed.). Retrieved September 22, 2023, from https://etc.usf.edu/lit2go/186/miscellaneous-poems/
Dunbar, Paul Laurence. Miscellaneous Poems. Lit2Go Edition. 1913. Web. <https://etc.usf.edu/lit2go/186/miscellaneous-poems/>. September 22, 2023.
Paul Laurence Dunbar, Miscellaneous Poems, Li2Go edition, (1913), accessed September 22, 2023, https://etc.usf.edu/lit2go/186/miscellaneous-poems/.