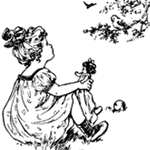 Sara Crewe is left in the care of Miss Minchin's Seminary when her father departs for India.
Source: Burnett F. H. (1906). The Little Princess.London, England: Warne.
After arriving from India by ship, Captaing Crewe reluctantly leaves his daughter in the care of Miss Minchin.
The rest of the girls are introduced to Sara Crewe. Sara's first French lesson does not go as Miss Minchin planned.
Sara introduces herself to Ermengarde.
Sara's presence at the school upsets Lavinia. Sara agrees to help Lottie.
Lottie is caught listening to Sara's story telling, upsetting Lavinia.
In one of Captain Crewe's letters, he reveals an interesting story causing much excitement in all the girls.
Sara requests for Becky to stay while she opens her birthday presents.
Sara begins her new life as a servant.
Lottie is confused by Sara's change in status.
Sara is startled into realizing that she looks like the poor children she had seen in her better days.
Sara watches as the Indian gentleman moves into his new home.
Sara has become fond of the Large Family.
Sara begins a story about the tropical forest, in response to the cold weather.
Ram Dass describes his fascination of Sara.
Miss Minchin scolds the cook, which results in Sara being on the wrong end of the cooks temper.
Most are shocked to find Sara well and the same even after a meal's deprivation.
The Large Family children tell the Indian gentleman about their little un-fairy princess.
All realize that if Sara had revealed her entire name, she would have been found much sooner.
Recounting of the tales of how things came to be for both Sara and the Large Family.
Burnett, F. (1906). A Little Princess. (Lit2Go ed.). Retrieved May 18, 2022, from https://etc.usf.edu/lit2go/33/a-little-princess/
Burnett, Frances Hodgson. A Little Princess. Lit2Go Edition. 1906. Web. <https://etc.usf.edu/lit2go/33/a-little-princess/>. May 18, 2022.
Frances Hodgson Burnett, A Little Princess, Li2Go edition, (1906), accessed May 18, 2022, https://etc.usf.edu/lit2go/33/a-little-princess/.