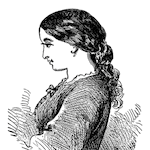 The Age of Innocence is a 1920 novel by American author Edith Wharton. The story is set in the 1870s, in upper-class, "Gilded-Age" New York City. The story centers on an upper-class couple's impending marriage, and the introduction of the bride's cousin, plagued by scandal, whose presence threatens their happiness. The novel is noted for Wharton's attention to detail and its accurate portrayal of how the 19th-century East Coast American upper class lived, as well as for the social tragedy of its plot. Wharton was 58 years old at publication; she had lived in that world and had seen it change dramatically by the end of World War I.
Source: Wharton, E. (1920) The Age of Innocence New York, NY: D. Appleton & Co.
Newland shows is support for his fiance's family.
Archer and May officially announce their engagement.
Archer and May, now newly engaged, pay a visit to their many friends and relatives. Mrs. Mingott assists May in her wedding preparations.
Mr. Jackson has dinner at the Archer Family home. During dinner, Newland defends the Countess' recent behavior.
Newland ponders his upcoming marriage to May. Newland hopes that he can help the Countess be accepted in high society.
Newland and his mother tell the van der Luydens about the Countess' recent treatment. The van der Luydens extend an invitation to the Countess.
Newland continues to learn more details about the Countess Olenska's past. The Countess and Newland talk at the Duke's reception.
Archer pays a visit to the Countess at her home, where they discuss the many difficulties of life in New York.
Newland and May's discussion of their engagement leaves Newland questioning his future wife's ability to think for herself.
Newland decides he must protect Ellen from herself. Newland meets with Letterblair to discuss the Countess' affairs.
Newland warns Ellen about the possible outcome of the divorce.
At the theater, a particularly moving scene reminds Newland of the Countess.
Newland is approached by Ned as he leaves the theater. Newland accepts an invitation from friends, hoping to come into contact with the Countess.
Newland departs for Florida in spite of a request by Ellen.
Archer visits May in Florida, but finds his mind wondering as he talks with her.
Newland pays a visit to Mrs. Mingott. Medora asks a favor of Newland.
Newland and Ellen discuss possible futures.
May and Newland's wedding day finally comes.
Newland and May travel to Europe for the honeymoon, where they visit with friends.
The newlyweds return to New York where Newland avoids a chance encounter with Ellen.
Bored with married life, Newport decides to visit an old friend.
Newland travels to Boston.
Newland and Ellen's time together gives them the chance to catch up.
Upon arriving in New York, Newland is surprised to meet an acquaintance from London.
Newland discovers new details about Ellen's relationship with the Mingott family, following her decision regarding her marriage.
A financial disaster puts a damper on Newland's plans.
Newland sends a request to Ellen requesting her presence in New York. The Beaufort's financial and social situation continues to worsen.
Archer and Ellen once again discuss their relationship.
Changing circumstances bring Ellen and Newland together again.
Newland discovers that Ellen intends to stay in New York. May informs Newland of a new, unexpected friendship.
The affairs of Mrs. Beaufort and Ellen are the topic of conversation at the van der Luydens home. Newland is greatly affected by news concerning Ellen.
While attending a formal dinner for Ellen, Newland takes notice of the attendees' new kindness toward the honored guest.
After the passage of many years Newland, now widowed, travels to Paris with his son. Newland declines an invitation from his son.
Wharton, E. (1920). The Age of Innocence. (Lit2Go ed.). Retrieved December 02, 2023, from https://etc.usf.edu/lit2go/43/the-age-of-innocence/
Wharton, Edith. The Age of Innocence. Lit2Go Edition. 1920. Web. <https://etc.usf.edu/lit2go/43/the-age-of-innocence/>. December 02, 2023.
Edith Wharton, The Age of Innocence, Li2Go edition, (1920), accessed December 02, 2023, https://etc.usf.edu/lit2go/43/the-age-of-innocence/.