The Mystery of Edwin Drood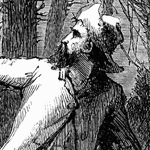 The Mystery of Edwin Drood, Dickens's final novel was left unfinished before his death in 1871. Edwin Drood's uncle, John Jasper, a choirmaster, is in love with his pupil and Drood's fiancee Rosa Bud. She has also caught the eye of high-spirited and ill-tempered Neville Landless (who came from Ceylon with his twin sister Helena). When Drood is murdered, the killer must be found...that is if Drood is really dead.
Source: Dickens, C. (1870). The Mystery of Edwin Drood. London, England: Chapman and Hall.
A confused Jasper exits the opium den before proceeding to the cathedral.
Following the service, the Dean and Mr. Crisparkle discuss the current state of Mr. Jasper's health. Edwin Drood pays a visit to his uncle to discuss his impending nuptials with Rosa Bud.
Edwin Drood and Rosa Bud discuss their relationship. The sound of Jasper's voice from the cathedral frightens Rosa.
Mr. Sapsea asks for Jaspers "opinion as a man of taste".
While proceeding home, Jasper encounters Durdles and a boy named called Deputy.
The home life of the Reverend Septimus Crisparkle is introduced to the reader. Mr. Crisparkle plans a dinner party.
Neville confides his past to the Reverend, openly admitting to feelings of "bitter hatred". Neville and the Reverend Crisparkle briefly discuss the situation between Edwin and Rosa.
After escorting the ladies home, Edwin and Neville have a heated discussion. Jasper, emerging from behind the two men, helps to establish a temporary truce between Edwin and Neville. After seeing Neville's reaction, Jasper begins to fear for his nephew's life.
With rumors of the previous nights events spreading throughout the town, Helena goes to her brother to find out the truth. Mr. Grewgious pays a visit to Rosa in order to discuss pertinent legal matters.
Reverend Crisparkle and his mother discuss Neville's behavior the night before. The Reverend encounters Neville and Helena by the river. Reverend Crisparkle is determined to bring a peaceful end to the current feud.
Edwin Drood visits the Staple Inn, where he is invited to stay for dinner. Grewgious bestows a valuable gift upon Edwin.
While proceeding to the Cathedral late at night, Jasper and Durdles secretly observe the behavior of Crisparkle and Neville. Jasper recalls an odd experience he had at the crypt while Durdles later experiences something strange himself.
With the arrival of the Christmas recess, Edwin and Rosa come to an agreement in regards to their relationship. Edward devises a plan to break the news to Jasper.
Christmas Eve and the dinner party to make peace between Neville and Edwin is at hand. Edwin has a strange and troubling conversation with a woman on the streets of Cloisterham. A great storm descends upon the town.
Neville is questioned in regards to Edwin's whereabouts. Mr. Grewgious' delivers the news of Edwin and Rosa's decision not to wed to Jasper.
Jasper tells Grewgious about the previous evening's dinner party. Reverend Crisparkle makes some alarming discoveries at Cloisterham Weir. Evidence in the case against Neville continues to mount.
The Reverend Crisparkle visits with Mr. Honeythunder before stopping by the Staple Inn to see Neville. Grewgious questions Crisparkle about Jasper's whereabouts. Neville becomes acquainted with Tartar.
Dick Datchery, a new arrival to Cloisterham, talks to number of the townspeople about the Drood disappearance.
Jasper's visit to Rosa leaves her feeling terrified.
Rosa departs the garden hastily in search of more secure surroundings.
Grewgious and Crisparkle both visit with Rosa, who is impressed with Tartar's courage. Grewgious comes up with a plan to maintain communication between Rosa, Neville and Helena.
Miss Twinkleton pays a visit to London.
Jasper, having arrived in London, returns to his old haunts. Datchery has an interesting conversation with the "Royal Highness the Princess Puffer."
Dickens, C. (1870). The Mystery of Edwin Drood. (Lit2Go ed.). Retrieved September 28, 2023, from https://etc.usf.edu/lit2go/6/the-mystery-of-edwin-drood/
Dickens, Charles. The Mystery of Edwin Drood. Lit2Go Edition. 1870. Web. <https://etc.usf.edu/lit2go/6/the-mystery-of-edwin-drood/>. September 28, 2023.
Charles Dickens, The Mystery of Edwin Drood, Li2Go edition, (1870), accessed September 28, 2023, https://etc.usf.edu/lit2go/6/the-mystery-of-edwin-drood/.