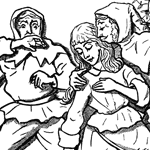 The Vampyre is a short novel written by John William Polidori and is a progenitor of the romantic vampire genre of fantasy fiction.
The Vampyre was first published on April 1, 1819, by Colburn in the New Monthly Magazine with the false attribution "A Tale by Lord Byron." The name of the work's protagonist, "Lord Ruthven", added to this assumption, for that name was originally used in Lady Caroline Lamb's novel Glenarvon, in which a thinly-disguised Byron figure was also named Lord Ruthven. Despite repeated denials by Byron and Polidori, the authorship often went unclarified.
The novel was an immediate popular success, partly because of the Byron attribution and partly because it exploited the gothic horror predilections of the public. Polidori transformed the vampire from a character in folklore into the form we recognize today—an aristocratic fiend who preys among high society.
Source: Polidori, J. (1819). The Vampyre. London, England: H. Colburn.
Introduction to the text, which includes details of the author and the story's conception.
Information regarding the history and "facts" of the vampire.
A tale of a young man, seduced by the mystery of Lord Ruthven. He soon finds that there are aspects to the Lord which he did not first recognize for what they were. Aubrey finds love, but his happiness is not lasting. He makes an oath to Ruthven, the consequences of which are devastating.
A description of a trip to Greece, and the house in which Byron spent time while there.
Polidori, J. (1819). The Vampyre. (Lit2Go ed.). Retrieved October 02, 2023, from https://etc.usf.edu/lit2go/96/the-vampyre/
Polidori, John. The Vampyre. Lit2Go Edition. 1819. Web. <https://etc.usf.edu/lit2go/96/the-vampyre/>. October 02, 2023.
John Polidori, The Vampyre, Li2Go edition, (1819), accessed October 02, 2023, https://etc.usf.edu/lit2go/96/the-vampyre/.