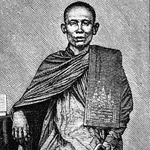 Narrated by John Fothergill West, a Scottish man, who moves from Edinburgh to Wigtownshire to care for the family estate when his father's half brother dies. Near the estate is The Cloomber Hall, for years uninhabited, but now the residence of John Berthier Heatherstone, a general of the Indian Army. General Heatherstone is an anxious man, apprehensive about someone he offended in India. The Mystery of Cloomber unfolds, revealing Heathstone's war crime against a Buddhist priest.
Source: Doyle, A. C. (1889). The Mystery of Cloomber.London, England: Ward and Downey.
The narrator introduces himself.
The narrator and his sister spy a light in Cloomber Tower and discover two people inside.
We meet General Heatherstone and his family. When the narrator and his family go to pay their respects to the General, they are unwelcomed.
The narrator goes back to the General's house and confronts the General's daughter. The reader begins to see the mystery surrounding the Heatherstones.
The narrator's sister, Esther, is frightened of the General. The narrator decribes his love of the General's daughter, Gabriel, and the relationship between Esther and Mordaunt, the General's son.
The narrator, Jack, has a confrontation with the General. Neither Mordaunt or the General will tell Jack what the peril is.
Jack meets Corporal Rufus Smith. They visit the General. Rufus reminds the General that they are acquaintances and asks to be his gardener.
A Presbyterian minister gives an authentic account to Jack the narrator.
Dr. Easterling is called to attend to the General's high fever and illness.
Mordaunt Heatherstone sends a note to Jack telling him that they have promised their father that they will not leave the house until after October 5th.
Jack and his father help a ship in trouble.
Jack talks with the captain and the crew. He meets Buddhist priests.
Esther confesses that she's still worried about their friends Gabriel and Mordaunt. The General comes clean.
The General and Rufus are gone and Mordaunt refuses to tell anyone where they are or what has happened to them.
Jack reads a note (written by the General) to Gabriel and Esther.
The reader gets an explanation to the General's strange habits and fears.
Doyle, A. (1889). The Mystery of Cloomber. (Lit2Go ed.). Retrieved May 27, 2022, from https://etc.usf.edu/lit2go/46/the-mystery-of-cloomber/
Doyle, Arthur Conan. The Mystery of Cloomber. Lit2Go Edition. 1889. Web. <https://etc.usf.edu/lit2go/46/the-mystery-of-cloomber/>. May 27, 2022.
Arthur Conan Doyle, The Mystery of Cloomber, Li2Go edition, (1889), accessed May 27, 2022, https://etc.usf.edu/lit2go/46/the-mystery-of-cloomber/.