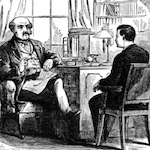 Babbitt is a novel by Sinclair Lewis. Largely a satire of American culture, society, and behavior, it critiques the vacuity of middle-class American life and its pressure on individuals toward conformity.
Source: Lewis, S. (1922) Babbitt New York: Harcourt, Brace & Co.
Another day begins in the Babbitt household. The reader is introduced to George and Myra Babbitt.
The Babbitt family assembles for breakfast. The reader is introduced to the Babbitt children, Verona, Ted, and little Tinka.
George Babbitt departs for work after a brief discussion with his neighbor, Mr. Littlefield.
George's assignment at the advertising agency leaves him feeling unsatisfied. George reaps the benefits of having advised Archibald Purdy in a real estate matter.
George continues to admire Zenith as he prepares for lunch at the Athletic Club. Reluctantly, George acknowledges his feeling of discontent to Riesling.
George and a client take a tour of a local tenement. George meets his father-in-law to ensure a good price on a future purchase. George decides to have a conversation about "morals" with his son.
George gets updated on current affairs while Myra sleeps.
George and Myra decide to throw a dinner party the local "intellects".
After the conclusion of the dinner party, George makes a confession to Myra.
George and Myra's visit to Riesling upsets Zilla. George and Riesling prepare to take a trip.
Traveling from New York, the businessman in the smoking car discuss a number of issues.
George, having recently returned from vacation, resolves to conduct himself differently in the coming year.
George appointment as an official delegate comes with newfound sense respect.
George's work on the Mayoral campaign results in ethically questionable compensation.
In an attempt to be invited into a country club, George and Myra extend a dinner invitation.
George continues his attempts at join a local club. Reverend Drew asks for George's assistance.
The wealthy Eathorne's approval of George's suggestions gives him great pleasure. George's standing in the church continues to increase.
George is concerned with Ted's choices and interests, which are contrary to his own. An incident at Ted's party causes tension between the Babbitt's and Littlefield's. A visit from family only increases George's irritation with matters at home.
George's unethical practices continue to bring him monetary gain. A former employee threatens to reveal George's corrupt business practices. While on a business trip, George encounters Gerald Doak.
Concerned for his friend's well-being, George waits for Riesling at his hotel room only to find out that things are not as they seem.
George achieves a level of success as a member of the Booster's Club, and later learns some unsettling news regarding Riesling.
Depressed without his friends, George seeks other outlets to distract him from his unsatisfactory life.
An encounter with an old friend causes some unexpected changes in George's behavior.
George's visit with Riesling leaves him feeling depressed and despondent. An attractive widow, Tanis Judique, drops by George's office for some assistance.
George's fantasies continue to negatively affect his home life, as he considers more drastic measures to ease his restless mind.
George encounters Seneca Doane on the train back to Zenith. George attempts to help Riesling with his legal matters, but is met with resistance from an embittered Zilla. George refuses to allow his son to transfer schools.
A tense situation with striking workers in Zenith forces the National Guard to intervene. George's criticism of Reverend Drew's sermon causes a noticeable change in his friends demeanor towards him.
George's relationship with Tanis takes a toll on his marriage, while his liberal opinions put him at odds with his friends.
George's involvement with Tanis begins to take a toll on his health and reputation. George receives his first invitation into the Good Citizen's League.
Myra's, having returned from her sister's, protests her husbands strange new behavior.
Feeling guilty for his treatment of his Myra, George breaks off his relationship with Tanis.
Myra confronts George with her suspicions. George's refusal to conform begins to greatly affect both is social and professional relationships.
A sudden illness brings Myra and George closer. George receives another invitation to join the Good Citizen's League.
George minimizes his involvement in the Good Citizen's League. Although he actively engages in unethical business practices, George hopes to the corruption in Zenith's business community will come to an end. A decision by Ted and Eunice divides the family while creating a sense of solidarity between father and son.
Lewis, S. (1922). Babbitt. (Lit2Go ed.). Retrieved September 29, 2023, from https://etc.usf.edu/lit2go/65/babbitt/
Lewis, Sinclair. Babbitt. Lit2Go Edition. 1922. Web. <https://etc.usf.edu/lit2go/65/babbitt/>. September 29, 2023.
Sinclair Lewis, Babbitt, Li2Go edition, (1922), accessed September 29, 2023, https://etc.usf.edu/lit2go/65/babbitt/.