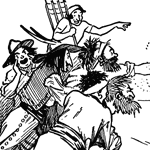 Peter Pan (also known as the Boy Who Wouldn't Grow Up or Peter and Wendy) is the story of a mischievous little boy who can fly, and his adventures on the island of Neverland with Wendy Darling and her brothers, the fairy Tinker Bell, the Lost Boys, the Indian princess Tiger Lily, and the pirate Captain Hook.
Source: Barrie, J. M. (1911)Peter and Wendy.
The reader is introduced to the Darling family. Wendy has her first encounter with Peter Pan.
With his shadow captured, Peter is forced to return to the Darling home and face Nana.
With Wendy's parents now absent, Peter Pan and Tinkerbell pay a visit to the Darling children.
Peter, Tinkerbell, and the Darling children take flight as they make their way to Neverland.
Having arrived in Neverland, Wendy and her brothers are introduced to the lost boys. Captain Hook, sensing his nemesis has returned, continues to plot his revenge. Tinkerbell's jealousy of Wendy continues to grow.
Wendy takes her role as mother to the lost boys very seriously and earnestly tries to make their house a home.
Wendy, Michael, and John are fitted for their trees. Wendy continues to perform her duties diligently, but finds that her memory is starting to fail her. Captain Hook continues to seek revenge.
A peaceful visit to the Mermaid's Lagoon is interrupted by the arrival of pirates.
Peter and the Never Bird help each other out of a bind.
Peter's rescue of Tiger Lily has unexpected benefits. Peter, Wendy and the boys make their way home. Tinkerbell's jealousy continues to grow.
Wendy's telling of a bedtime story causes her, Michael, and John to become homesick.
The pirates undertake a surprise attack on the Lost Boys' hideout.
Having been deceived by the pirates, the Lost Boy's emerge from hiding only to be taken captive.
Back on the Jolly Roger a despondent Captain Hook prepares the plank as he laments the absence of Peter Pan. A familiar sound evokes great fear in the captain.
Peter Pan quietly boards the Jolly Roger in an attempt to rescue Wendy and the Lost Boys. Peter and Captain Hook face each other one more time.
Having taken control of the Jolly Roger, Peter navigates the ship back to London. Wendy decides where her true place is.
A relieved Mrs. Darling provides a home for the Lost Boys. Fearing an unwanted transformation, Peter departs after making a promise to Wendy. As time passes, so does the Darling home.
Barrie, J. (1911). Peter Pan. (Lit2Go ed.). Retrieved October 02, 2023, from https://etc.usf.edu/lit2go/86/peter-pan/
Barrie, J.M.. Peter Pan. Lit2Go Edition. 1911. Web. <https://etc.usf.edu/lit2go/86/peter-pan/>. October 02, 2023.
J.M. Barrie, Peter Pan, Li2Go edition, (1911), accessed October 02, 2023, https://etc.usf.edu/lit2go/86/peter-pan/.