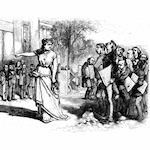 In Beyond the City, the desire for money and romance drives the characters beyond the typical boundaries of their middle class Victorian lives. Lust, deceit, and financial scandals rock their placid world.
Source: Doyle, A.C. (1892) Beyond the City London, England: Simpkin, Hamilton, Kent
Two women, Bertha and Monica, are watching their new neighbors move in. The woman does not act lady-like and her nephew is quite broad. The cabman unloads a good amount of various types of sports equipment.
Monica and Bertha visit their new neighbors, Mrs. Westmacott and her nephew, and determine she is a very unpleasant woman.
New characters are introduced, such as Hay Denver and Dr. Walker and his two daughters, all acquainted with Mrs. Westmacott and her nephew. Their relationships are developed through dialogue as they head to the country to get fresh air and exercise.
Charles Westmacott is in the care of his aunt because his parents were killed in the Mutiny. Clara and Charles have been talking and as Clara leaves she sees her sister conversing with Harold Denver. Clara presses Ida to tell her what happened between them, but Ida will not allow herself to be looked after. Clara has placed herself in the role of a mother to Ida and cares for her future.
Mrs. Westmacott convinces the admiral to join the women's rights platform. It exhibits her use of flattery and cunning to win him over.
Mrs. Westmacott wishes Charles to marry Ida and talks to Clara about arranging it as such. Clara has a conflict between her thoughts of Charles and Harold for Ida, but resolves to let things play out their natural course. Shortly after, Harold approaches Clara and, expecting him to propose marriage to Ida, proposes to her instead.
Charles sends a clumsily written letter to Ida asking her if she would accompany him on his tandem tricycle. She accepts and as they ride, he asks her to marry him. She pities him and concedes that she will think about it. However, when he grabs her hand, she does not pull away.
Mrs. Westmacott becomes more acquainted with the Doctor, until it appears they plan to marry. Clara and Ida decide to convince their father not to marry Mrs. Westmacott by imitating her emancipated dress and liberal beliefs.
Clara and Ida carry out their scheme. Ida plays with chemicals in the kitchen while Clara reads maps and aspires to be a pilot. Meanwhile, they are learning to smoke and drink, all to their father's horror.
The two girls get more eccentric in their ways. Clara begins to wear knickers and Ida wears a short skirt. The two girls then throw a dinner party for Harold and Charles. That is the last straw for the Doctor and he realizes the error of his ways.
Harold faces destruction when his partner, Mrs. Westmacott's brother, abandons him with a massive debt that he may never be able to pay back. He tries to take a noble stand for his creditors and Clara vows to stay by him.
Clara wants to help Harold in the only way she can. She offers her money to him which amounts to L5000. However, her father knows Harold will not accept it and gives it to his parents to use in the most prudent way.
The Admiral sets out to go back to sea and instead sees a moneylenders advertisement. He decides to borrow the money to pay the enormous debt and ends up in the shabby office of two scam artists. They try to make a deal and the Admiral refuses with the advice of Charles. Charles resolves to take him to Mrs. Westmacott's lawyer.
He goes to the suggested lawyer and he says that he cannot give out a loan to an older man without life insurance. The Admiral is inspected by a doctor and is found to be in excellent help. The Admiral intervenes in a fight on the way to sell his pension.
The Admiral sells his pension and gets £5,000. Harold returns to his parents after meeting with his creditors and tells them the sum owed is less than expected. They rejoice and Harold runs to Dr. Walker to return his cheque. Dr. Walker tells Harold how his father obtained the money and he runs back to the Admiral and demands that he get his pension back.
The two sisters witness a man enter through the window of Mrs. Westmacott's home and see her fall to the ground. They think the visitor was expected, however when she falls they immediately call for help. He hit her on the back of the head with a life preserver, but she is alright.
Mrs. Westmacott recounts the story to the Doctor and the Admiral after giving the Admiral his pension papers back. She spent the money that she was going to give to her brother on the Admiral's papers. Her brother returned to her and was the one who struck her on the head. Harold is able to clear his name, the Admiral does not have to return to sea or move from his villa, both couples get married, and all live a full and happy life.
Doyle, A. (1892). Beyond the City. (Lit2Go ed.). Retrieved October 02, 2023, from https://etc.usf.edu/lit2go/116/beyond-the-city/
Doyle, Arthur Conan. Beyond the City. Lit2Go Edition. 1892. Web. <https://etc.usf.edu/lit2go/116/beyond-the-city/>. October 02, 2023.
Arthur Conan Doyle, Beyond the City, Li2Go edition, (1892), accessed October 02, 2023, https://etc.usf.edu/lit2go/116/beyond-the-city/.