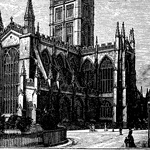 Northanger Abbey follows Catherine Morland and family friends Mr. and Mrs. Allen as they visit Bath, England. Seventeen year-old Catherine spends her time visiting newly made friends, like Isabella Thorpe, and going to balls. Catherine finds herself pursued by Isabella's brother John Thorpe and by Henry Tilney. She also becomes friends with Eleanor Tilney, Henry's younger sister. Mr. Henry Tilney captivates her with his view on novels and knowledge of history and the world. The Tilneys invite Catherine to visit their father's estate, Northanger Abbey, which, because she has been reading Ann Radcliffe's gothic novel The Mysteries of Udolpho, Catherine expects to be dark, ancient and full of fantastical mystery.
Northanger Abbey is considered a parody of a gothic novel.
Source: Austen, J. (1817). Northanger Abbey.London, England: J. Murray.
The first chapter introduces the reader to the protagonist of the novel, Catherine Morland.
The chapter continues its description of Catherine and introduces her mother, Mrs. Allen, and offcer Catherine's first impressions of Bath.
Catherine and Mrs. Allen attend the Lower Rooms, a gathering place for socialites. Since Catherine has no dance partner, the master of ceremonies introduces her to a young man named Henry Tilney, whose charm and good looks impress Catherine.
The next day, Catherine searches the social meeting places for Henry, but she does not see him again. The chapter introduces Isabella and Mrs. Thorpe and her children.
Catherine and Isabella spend more time together in Bath. Catherine tells Isabella about Henry Tilney, and Isabella encourages her friend's crush.
Chapter VI is a character study. It consists almost entirely of dialogue between Catherine and Isabella, and can be read as a companion chapter to Chapter III, which has Henry and Catherine interacting in the same style. In Chapter VI we see the development of the dynamic between Catherine and Isabella that will last for all of Book I.
Catherine and Isabella run into James and John, with whom Catherine has conversations with about the ball and the Thorpes.
Chapter VIII takes place almost entirely at the ball and deals with Catherine's social misfortunes.
John Thorpe arrives at the Allens' with his sister Isabella and Catherine's brother James. The trio pressure Catherine into joining them for a carriage ride; James and Isabella in one carriage, and Catherine and John in the other. During the carriage ride, Catherine attempts to divert John's self- interested monologue, but always fails.
Chapter X begins with a reminder that Catherine has hardly perfected her powers of perception, for she has not yet caught on to the romance between James and Isabella. Catherine, James, the Allens, and the Thorpes go to the theater.
An early morning rain prevents Catherine's scheduled walk with Eleanor and Henry Tilney. Around noon, John Thorpe, Isabella, and James show up at her door again, with a plan to visit Bristol. Catherine refuses at first, thinking that Eleanor and Henry may still show up, but John entices her by telling her they will visit a castle and in any case, he saw Henry Tilney driving away in a carriage earlier that morning. Catherine joins them, somewhat reluctantly.
The next morning, Catherine goes to the place where the Tilneys are staying, planning to explain everything. The servant tells her that Eleanor is not at home, but as Catherine walks away she sees Eleanor exit with her father. Mortified, Catherine fears she has greatly offended the Tilneys. Catherine's two social spheres beging to conflict with each other.
Chapter XIII makes us feel tense and worried that Catherine will cave in to the inconsiderate demands of James, Isabella, and John. When John lies to the Tilneys, telling them that Catherine cannot go for a walk, he confirms our opinion of him as a selfish, conceited twit.
The morning arrives with no fresh invitations from James, Isabella, and John. Catherine goes on her walk with Henry and Eleanor. The Tilneys discuss the landscape in terms of drawing, and Catherine soon finds herself out of her element.
Catherine receives a note from Isabella, bidding her to visit as soon as possible. Catherine goes to Isabella's and discovers that her friend is engaged to James. Catherine receives interesting news from John.
The chapter reveals Catherine's impressions of the Tilneys and introduces an interesting scene about a letter from James.
Catherine has now become enamored of Henry Tilney, and even allows herself to occasionally indulge in the idea that she and Henry might become engaged. She is invited to Northanger Abbey, The Tilney home.
Catherine meets with Isabella for the first time in three days. Isabella tells Catherine that she has received a letter from John, stating his intention to propose to Catherine.
In Chapter XIX, Catherine's innocence leads to a mistaken understanding of the motivations of Isabella and Frederick.
Catherine prepares to leave for Northanger Abbey with the Tilneys. She is nervous and tries to be on her best behavior. Not all is expected about the Tilney home.
Catherine makes some discoveries about Eleanor and is disturbed by a violent storm later that evening.
Catherine's discovery is not so monumental and she takes it upon herself to learn more about the mysteries of the Tilney family.
Catherine becomes growingly supicious of the General and his wife's mysterious disappearance.
Catherine tries to investigate the late Mrs. Tilney's room and later questions her sons, an action for which she is severaly scolded.
All seems to be well at dinner later that evening, but Catherine receives a troubling letter from her brother, James.
Catherine, Eleanor and Henry try to speculate about how Frederick Tilney will handle his apparent engagement to Isabella. The General proposes that the group take a trip to visit Henry at his Woodston home.
Catherine receives a letter from Isabella who asks for her help.
Catherine, after a month's stay at Northanger Abbey, is abruptly sent back home.
On the way home, Catherine tries to figure out what offence she could have caused the General to make him change plans.
Catherine, still sulking, is visited by Henry who makes some interesting revelations to her.
Henry and Catherine are to be married, but there seems to be one little impediment.
Austen, J. (1817). Northanger Abbey. (Lit2Go ed.). Retrieved September 21, 2023, from https://etc.usf.edu/lit2go/48/northanger-abbey/
Austen, Jane. Northanger Abbey. Lit2Go Edition. 1817. Web. <https://etc.usf.edu/lit2go/48/northanger-abbey/>. September 21, 2023.
Jane Austen, Northanger Abbey, Li2Go edition, (1817), accessed September 21, 2023, https://etc.usf.edu/lit2go/48/northanger-abbey/.