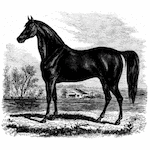 Black Beauty is a novel told in the first person (or "first horse") as an autobiographical memoir told by a highbred horse named Black Beauty-beginning with his carefree days as a colt on an English farm, to his difficult life pulling cabs in London, to his happy retirement in the country.
Source: Sewell, A. (1870) Black Beauty New York: F.M. Lupton Publishing Co.
The narrator describes life as a young horse.
The narrator is taken on his first hunt.
The narrator is taught to wear a saddle.
Black Beauty describes his life and surroundings in Birtwick Park.
Still in pleasant surroundings, Black Beauty learns a few things about his lineage, and meets some of the other horses in the stables.
Black Beauty finds that his new duties are somewhat restricting.
Ginger tells the story of her life to Black Beauty.
Ginger tells more of her life's story to Black Beauty.
Merrylegs finds the vicar and his family's visits exhausting, and decides to take it upon himself to teach the young lads a lesson in courtesy.
Merrylegs, Ginger, and Black Beauty discuss the limitations of being trained with blinders.
As time passes at Birtwick, Black Beauty comes to respect and appreciate his master more and more.
Black Beauty's intuition proves beneficial to his master while traveling in foul weather.
Having come across a cruel young man mistreating a horse, John ensures that he is taught a proper lesson about kindness towards animals.
The master and John discuss the service of James Howard, a young assistant, who is now being offered a new opportunity for advancement.
En route to visit friends, the master stops at a local hotel where Black Beauty meets the Old Hostler, a longtime caretaker of horses.
A potential tragedy is averted by the lifesaving heroism of James Howard.
A James prepares to depart, a new stable boy is chosen as his replacement.
Abstract: With Mrs. Gordon's health in decline, John and Black Beauty depart on an urgent mission.
Having taken ill, Black Beauty receives questionable medical treatment from the local horse doctor.
Joe Green continues to gain the confidence and respect of John and the master, and is eventually allowed to take charge of Black Beauty. Joe attempts to intervene on the behalf of two mistreated horses.
With the departure of the master's wife, Black Beauty's easy life in Birkshire begins to change dramatically.
Merrylegs and Black Beauty are taken to their new home in Earlshall Park, where they are introduced to Mr. York. John Manley says his final farewell to the pair. Gradually, Black Beauty and Merrylegs are reintroduced to the check rein.
The use of the check rein has unintended consequences for Ginger and Black Beauty.
With the Earl and Mr. York away, Lady Anne and Blantyre decide to take a fateful trip on horseback.
Black Beauty describes his experiences with Reuben Smith, Mr. Yorks temporary replacement. Mr. Smith's irresponsibility causes great pain for Black Beauty.
Mr. Smith's actions and death cause a great stir, resulting in a full investigation of the incident. Black Beauty's recovery is slow and painful.
Having sufficiently healed from his injuries, Black Beauty bids farewell to an old friend and finds himself in a tolerable new surrounding.
Now placed in the position of job horse, Black Beauty gives his account of the various driving styles his subjected to on a regular basis.
Black Beauty tells of another type of driver, the steam-engine style, who's irresponsible handling of a carriage can have grave consequences for a horse. Black Beauty spends some time with the good-natured mare, Peggy, before meeting his new master.
A sudden decline in Black Beauty's health leads to the arrest of the stable groom.
Poor care by an irresponsible stable groom, results in an end to Black Beauty's service in Bath.
Black Beauty describes his time at the horse fair and introduction to a new master.
After becoming acquainted with the rest of the Barker family, Black Beauty begins his duties as a cab.
Captain tells Black Beauty the story of his life, and his time at war.
Black Beauty shares some of his experiences with his new master, stable boy and driver.
A fortuitous run-in with Mr. Briggs, brings a positive change to Black Beauty's cab duties.
A special request is made of Jerry and his cab horses. Black Beauty takes advantage of a rare opportunity.
In the course of his duties, Jerry encounters a true gentleman.
Black Beauty describes the conditions some less fortunate cab horses endure, and the hardships of the working class cab driver as well.
Black Beauty is deeply troubled by an encounter with an old friend.
A visit to the butcher's shop provides Black Beauty with further insight as to the conditions that drivers and horses face in the course of their duties.
With an election approaching, a special request is made of Jerry by one of the candidates. Jerry discusses the meaning of liberty with Harry.
With election day upon them, Jerry and Black Beauty prepare for a very busy day. Jerry's paternal instincts take over when a rider in need arrives.
An incident with a brewer's cart badly injures Captain. Black Beauty is introduced to Hotspur.
Having been sold once again, Black Beauty meets his new master, but finds his time there short lived.
Now in the employment of a large cab company, Black Beauty is subjected to harsh treatment by his new master and drivers.
Black Beauty is sold once more, this time to a much kinder master.
After a long and fruitful life, Black Beauty meets his final masters, and proceeds to spend the rest of his days in comfort.
Sewell, A. (1870). Black Beauty. (Lit2Go ed.). Retrieved October 02, 2023, from https://etc.usf.edu/lit2go/125/black-beauty/
Sewell, Anna. Black Beauty. Lit2Go Edition. 1870. Web. <https://etc.usf.edu/lit2go/125/black-beauty/>. October 02, 2023.
Anna Sewell, Black Beauty, Li2Go edition, (1870), accessed October 02, 2023, https://etc.usf.edu/lit2go/125/black-beauty/.