Peter Rabbit and Other Stories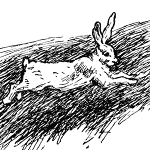 Collected here are the stories of Peter Rabbit, his brothers and sisters, and many other animals that inhabited the imagination of English Beatrix Potter.
Source: This book was compiled by the Florida Center for Instructional Technology and includes passages from multiple sources. Please refer to the passage pages for further source information.
This book tells the story of shopkeepers Ginger, a tom-cat, and Pickles, a Terrier. They allow their customers credit and are unable to collect enough to pay the bills and subsequently go out of business. Their competition, Tabitha Twitchit, raises her prices once customers are forced to shop there and a few try to compensate by selling some specialized goods with limited success. Eventually, Henny Penny, a hen, reopens the shop.
When a little dog named Duchess gets an invitation to tea at the home of Ribby the cat, she becomes dreadfully afraid that Ribby is going to serve her mouse pie. Duchess bakes a delightful veal and ham pie and comes up with a very clever plan to substitute her own pie for Ribby's. However, both of their pies become mixed up and each becomes dreadfully afraid that they have eaten a patty-pan.
The hero is the young Tom Kitten; other main characters are the rat Mr Samuel Whiskers and his wife Anna Maria, who catch Tom Kitten and almost use him to make a roly-poly pudding.
The story of a good rabbit and a very naughty bad one.
A cat-and-mouse game between Miss Moppet, a cat, and a tiny mischievous mouse.
This book tells the story of a poor tailor, his cat, and the mice that live in his shop. He has many scraps of cloth and ribbons left over that are too small for any practical use. The mice take these and make fine clothes for themselves. The tailor sends his cat Simpkin to buy food and a twist of cherry-colored silk for a coat the mayor has commissioned for his wedding. While the cat is gone, he frees the mice from teacups where Simpkin has imprisoned them. When Simpkin returns and finds his mice gone, he hides the twist in anger. When the tailor falls ill, the mice save the day by completing the coat.
This is the well-known classic story about Benjamin Bunny helping his cousin, Peter Rabbit. Peter must reacquire his clothing from the scarecrow in Mr. MacGregor's garden.
This book tells the story of Jemima Puddle-Duck, introduced in the The Tale of Tom Kitten), who seeks out a nesting place away from the farm. A charming fox (who looks not unlike Mr. Tod talks her into nesting at his house on a mysteriously ample supply of feathers. He sends the naive Jemima out to collect traditional herbs for stuffing a duck, saying it is for an omelette. The farm collie, Kep, hears about this, realizes what the fox is really up to and intervenes.
This book tells the story of a frog who decides to go fishing for minnows for supper. After several misadventures he gives up and has a dinner of roasted grasshopper and salad with his friends.
Mr. Tod, a fox, and Tommy Brock, a badger, are both troublesome neighbors and "disagreeable people." Mr. Tod has a habit of taking up lodging in other people's houses. Mr. Brock visits a rabbit friend, who turns out to be Mr. Bouncer Bunny from The Tale of Benjamin Bunny, and then steals his son Benjamin Bunny's children with plans to cook and eat them. Mr. Tod however finds that Mr. Brock has taken up residence in one of his homes, and after many comical efforts to rouse him, they fight it out. Meanwhile, Benjamin and his cousin Peter have come to rescue Benjamin's children, and the fight gives them a chance to sneak off with the baby bunnies.
A little girl loses her handkerchiefs and goes on a search for them. She sees some white cloths on the grass high up a hill and climbs up to discover a a little hedgehog washerwoman, Mrs. Tiggy-Winkle, with her handerchiefs freshly laundered, along with many other interesting articles such as stockings for a hen.
This book tells the story of a wood-mouse named Mrs. Tittlemouse and her efforts to keep her house in order despite numerous unwanted visitors.
Peter Rabbit defies his mother's instructions and goes into Mr. McGregor's garden, where he has to run and hide for his life.
In The Tale Of Pigling Bland, farmer Piperson decides it's time to turn his pigs into bacon, Pigling Bland and Pig-Wig must use their wits to outsmart him.
Squirrel Nutkin goes along with a group of squirrels to Owl Island to gather nuts. However, while all the other squirrels are busy collecting nuts, Nutkin is often playing or making mischief. While the other squirrels present the island's resident owl, Old Brown, with gifts to earn his permission to gather nuts, Nutkin dances and taunts the owl with sing-song rhymes. Eventually, after Nutkin annoys Old Brown many times, the owl captures Nutkin and tries to skin him alive. Nutkin escapes but not without getting his tail bitten off.
When Benjamin Bunny and his children, the "Flopsy Bunnies," go to Mr. McGregor's rubbish heap, they are pleasantly surprised to find it filled with overgrown lettuces. They eat their fill, and then fall asleep. When they are found by Mr. McGregor and put in a bag, Thomasina Tittlemouse comes to their rescue.
Three kittens are dressed up for a tea-party and set out to play cleanly, but end up losing their clothes to the ducks, which started with Tom Kitten losing his buttons. Mother cat finds them w/o clothes and sends them upstairs so as not disturb her tea-party, but they keep playing and make noise. The ducks eventually lose the clothes, which fall off for lack of buttons and sink into the pond.
An innocent squirrel accused of stealing nuts is forced down a hole in a tree, where he meets a friendly chipmunk.
While the dolls are away, two curious, naughty mice explore the dolls' house and steal their furniture.
Potter, B. (2012). Peter Rabbit and Other Stories. (Lit2Go ed.). Retrieved September 29, 2023, from https://etc.usf.edu/lit2go/148/peter-rabbit-and-other-stories/
Potter, Beatrix. Peter Rabbit and Other Stories. Lit2Go Edition. 2012. Web. <https://etc.usf.edu/lit2go/148/peter-rabbit-and-other-stories/>. September 29, 2023.
Beatrix Potter, Peter Rabbit and Other Stories, Li2Go edition, (2012), accessed September 29, 2023, https://etc.usf.edu/lit2go/148/peter-rabbit-and-other-stories/.