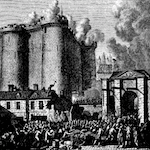 A Tale of Two Cities is a historical novel by Charles Dickens. The plot centers on the years leading up to the French Revolution and culminates in the Jacobin Reign of Terror. It tells the story of two men, Charles Darnay and Sydney Carton, who look similar but are very different in personality. Darnay is a romantic French aristocrat, while Carton is a cynical English barrister. However, the two are in love with the same woman, Lucie Manette.
Source: Dickens, C. (1859). A Tale of Two Cities. London, England: Chapman and Hall.
A description of the time period is presented to the reader.
Jarvis Lorry and his fellow travelers encounter a messenger.
Lorry takes part in a strange conversation as his fellow travelers dream.
After arriving in Dover, Lorry delivers a message to Lucie Manette.
Lorry and Lucie visit the wineshop of Monsieur Defarge.
Lucie is reunited with her father.
Jerry Cruncher heads off to run an errand, while his son waits for him at Tellson's Bank.
Cruncher is sent to attend the trial of Charles Darnay.
A series of witnesses are called to testify against the Charles Darnay.
Darnay exits the courtroom and is eventually joined by Sydney Carton, whose appearance strongly resembles Darnay's.
Stryver and Carton discuss the days proceedings over drinks. Stryver questions Carton's feelings for Lucie.
Lorry discusses Lucie's suitors with Miss Pross. A story relayed from the Tower of London disturbs Dr. Manette.
Marquis Evremonde, a guest of Monseigneur, is involved in a tragedy outside of Defarge's wine shop.
The Marquis arrives at his village where he treats the peasants with callous indifference.
After receiving a visit from his nephew, Charles Darnay, the Marquis receives a painful message.
Darnay makes an admission to Dr. Manette and asks for a promise. Dr. Manette asks for a promise in return from Darnay.
Stryver discusses his feelings for Lucie with Carton.
Stryver's plan to propose to Lucie comes to a sour end.
Carton laments his wasted life and makes a pledge to Lucie.
Cruncher follows a funeral procession for Roger Cly. Cruncher is followed by his son when he revisits the grave later that night.
The "Mender of Roads" tells the story of the Marquis' assassin to Monsieur Defarge.
Defarge receives warning of a spy in the neighborhood. John Barsad pays a visit to Defarge's wine shop.
Dr. Manette starts to put his imprisonment behind him.
Darnay and Lucie marry and leave for their honeymoon. Dr. Manette is not well.
Lorry and Miss Pross discuss the relapse with Dr. Manette. Steps are taken to prevent further relapses.
Lucie and Darnay are visited by Sydney Carton. Darnay makes a promise to Lucie regarding Carton.
Lorry visits the Darnays with some unsettling news. The Defarges lead a mob into the Bastilles.
The peasants, led by Madame Defarge, exact revenge.
Throughout the French countryside fires burn as the revolution spreads.
Lorry is dispatched to France. Darnay departs for Paris in an attempt to save the Marquis' groundskeeper.
Darnay is arrested after arriving in Paris and is held "in secret".
Dr. Manette makes a plea to the mob to spare Darnay's life.
Cruncher protects Lucie and Miss Pross. Madame Defarge is unwilling to assist Lucie.
Dr. Manette persuades the tribunal to keep Darnay alive. A new position allows Dr. Manette to keep an eye on Darnay.
Lucie stands near La Force, hoping Darnay will be able to see her. Darnay will stand trial soon.
Dr. Manette testifies at Darnay's trial.
Darnay is re-arrested, having been accused by Defarge, Madame Defarge, and an unknown third party.
Miss Pross is reunited with her long lost brother. Carton comes up with a plan to help Darnay and coerces Barsad into helping him.
Cruncher attempts to make amends for the work he has done outside of the bank. Carton wanders through the streets of Paris as he prepares for his visit with Darnay. Darnay's accusers are named in court.
Dr. Manette's own account of his imprisonment is read in court. Darnay's fate is sealed by the actions of his father and uncle.
Darnay is escorted back to his cell. There is little hope of compassion for the condemned Darnay.
Carton overhears Madame Defarge's plan at the wine shop. Carton helps to secure safe passage for Lucie and Dr. Manette.
Carton visits Darnay before his execution.
Miss Pross has one last encounter with Madame Defarge as she and Cruncher prepare to leave the city.
Sydney Carton imagines a future far brighter than the one he is now witnessing.
Dickens, C. (1859). A Tale of Two Cities. (Lit2Go ed.). Retrieved October 02, 2023, from https://etc.usf.edu/lit2go/22/a-tale-of-two-cities/
Dickens, Charles. A Tale of Two Cities. Lit2Go Edition. 1859. Web. <https://etc.usf.edu/lit2go/22/a-tale-of-two-cities/>. October 02, 2023.
Charles Dickens, A Tale of Two Cities, Li2Go edition, (1859), accessed October 02, 2023, https://etc.usf.edu/lit2go/22/a-tale-of-two-cities/.