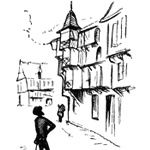 Main Street is a satirical novel about small-town life, and is notable for the presence of a strong female protagonist.
Source: Lewis, S. (1920). Main Street.New York: Harcourt, Brace & Co.
Foreword to the text.
The reader is introduced to Carol Milford, a beautiful, young woman trying to find her place in the world. Fearing a mundane life, Carol turns down a suitor in order to pursue a more bohemian lifestyle.
Carol is introduced to Will Kennicott while visiting a friend, and soon they begin their courtship.
Carol and Will travel to Gopher Prairie by train, following their marriage. Carol observes the other passengers as the travels, feeling that she could help improve their lives. After great anticipation, Carol arrives in Gopher Prairie.
After taking a look around, Carol is unnerved by the stature and state of the buildings in Gopher Prairie. Bea Sorensen's tour of Gopher Prairie leaves her awestruck.
Will and Carol attend a part at Sam Clark's house where they are introduced to the young up and comers of Gopher Prairie. Carol finds the conservative opinions of Gopher Prairie's citizens to be contrary to her own.
Carol accompanies Kennicott on a hunting trip, admiring the natural landscape of Gopher Prairie. Carol is introduced to the like minded Vida Sherwin and Guy Pollock. Carol's home refurnishing is met with disdain by a miserly and religious neighbor. Carol hosts a party of her own, hoping it will have some influence on the townspeople of Gopher Prairie.
With the arrival of winter, Carol attempts to create some distraction for herself and the townspeople. Carol's treatment of her maid is a source of tension with the members of the Jolly Seventeen.
A conversation with Vida greatly affects Carol. Will reassures her that everyone likes her, but advises her to purchase goods from his patient's businesses.
Still affected by her conversation with Vida, Carol begins to observe the judging glances of the townspeople. Carol and Will pay a visit to his mother.
While touring the outskirts of Gopher Prairie, Carol meets Miles Bjornstam, the town sole Democrat. Carol unsuccessfully attempts to introduce Will to the art of Poetry. A less opinionated Carol finds greater acceptance with the ladies of the Jolly Seventeen.
Carol is disappointed by her experience at the Thanatopsis Club.
Carol's attempts at rebuilding and reforming the town continue to be thwarted by the townspeople. In order to maintain their social status, Carol and Kennicott move to the lake for the summer. Carol is initially impressed by the Perrys, but changes her mind after hearing their opinions.
Carol pays a visit to Guy Pollock's law office. Guy reveals his true feelings for Gopher Prairie.
Carol and Will have their first argument. Will complains about Carol's "highbrow" attitude, and the effect is it having on his personal and professional relationships.
Carol fantasizes about the important role her husband fills in Gopher Prairie, later deciding to pay a surprise visit to his office. Carol accompanies Will as he visits his patients, appreciating the opportunity to see her husband in action.
Christmas arrives and Carol and Will attend a party at a friends house. Carol's frustration with the stagnant atmosphere of Gopher Prairie continues to increase.
Carol proposes the formation of a drama club, eventually convincing Will to take her to Minneapolis so she can watch some modern plays. Carol enjoys herself in the city, but finds that her unrefined husband is having trouble adapting to city life.
The Dramatic Club has its first meeting, and Carol finds herself in a position to influence the people of Gopher Prairie. Carol is sure the play will be failure, having witnessed the lack of preparation by the actors.
Miles and Bea are married, and although invited, not a single member of the Jolly Seventeen choose to attend the ceremony. A board appointment by the mayor temporarily encourages Carol. Will's mention of children causes Carol to become despondent. A new world conflict erupts, but the people of Gopher Prairie fail to take notice.
A visit from Will's relatives causes great discomfort for Carol. Carol becomes pregnant, eventually giving birth to a son, Hugh.
Raymond and Vida, now active in town activities, are married. Vida is jealous and resentful of Carol taking Will's love for granted.
Carols discontent with small town life continues to grow. Vida and Carol continue to argue about life in Gopher Prairie.
Raymond enlists, as America enters World War I. Kennicott's desire to enlist is discouraged by the Doctor's Council of Gopher Prairie. Now a wealthy businessman in Boston, Percy Bresnahan returns to visit his hometown amidst a great celebration from the all of Gopher Prairie.
After a conversation with Bresnahan, Carol's opinion of Will becomes more critical. A visit from Will's friends causes tension in the Kennicott home, eventually resulting in a extreme request by Carol. Bea's departure leaves Carol doing all the housework. Will's proposal of building a new house only leaves Carol more frustrated than before.
Will feels that Carol does not appreciate him and wonders whether other women would still find him attractive. Complaining of a backache, Maud Dyer visits Will's office. Will receives an invitation from Nat Hicks. Will's relationship with Maud continues to escalate.
Will diagnoses the Bjornstams illness as typhoid. Carol agrees to assist Bea and Olaf as they recover from their illness. Vida, Maud, and the minister's wife are turned away from the Bjornstams' home. A tragedy in the Bjornstams home prompts Miles to depart for Canada.
Carol is befriended by Maud Dyer, who proceeds to ridicule Nat Hick's assistant tailor, Erik Valborg.
Fern Mullins, the new high school teacher, arrives from Minneapolis. Carol and Fern, having much in common, quickly become friends. Carol considers restarting the dramatic club.
Carol encounters Erik while walking with Hugh, and they discuss life in Gopher Prairie. Carol encourages Erik to pursue further education. Erik slowly earns the town's acceptance.
Carol spends a day at the lake accompanied by the Dyers, Erik, Cy Bogart, and Fern Mullins. Carol, jealous of Maud's affection for Erik, is happy to accept an invitation to go out on the lake. Mrs. Bogart's concerns are ignored by Carol, who later meets Erik at Harry Haydock's party. Erik's admission leaves Carol feeling confused and uncomfortable.
A late night visit from Erik, causes rumors to spread about Carol. While discussing the current situation in Gopher Prairie, Vida discloses her prior relationship with Will to Carol. Carol's discomfort continues to grow.
A minor incident at the barn dance has dire consequences for Fern Mullins. Fern, confident she will be fired, resigns and leaves town.
Will requests that Carol no longer talk with Erik, hoping to avoid the spread of rumors throughout town. Erik's sudden departure greatly affects Carol. Carol and Will decide to take a vacation from Gopher Prairie.
Will and Carol spend three months travelling through the southwest United States. Arrival in Gopher Prairie once again leaves Carol feeling despondent and alone. Carol, happy to see her son again, withholds her opinions for the sake of her husband.
Carol continues to silently endure life in Gopher Prairie. Vida excitedly welcomes Raymond Wutherspoon back home from war. The townspeople's quickly increasing wealth prompts the arrival of Mr. Blausser, a businessman deadset on improving and expanding Gopher Prairie. Carol is finally prepared to leave Gopher Prairie.
Will is bothered by Carol's apathy towards the Gopher Prairie boosting campaign. Carol and Will continue to argue about her impending departure. Carol departs for Washington.
Carol finds work within the Bureau of War Risk Insurance, and thoroughly enjoys the city life. After talking with multiple women from small towns, Carol realizes that Gopher Prairie may not be that bad a place to live. While at the cinema, Carol recognizes an old friend.
After a year, Will visits Carol in Washington. Carol and Will strengthen their relationship with some time away. As Carol returns to work, she is already pregnant with her second child.
Carol reluctantly returns to Gopher Prairie, where she is welcomed back by many of the townspeople. Carol becomes active in local activities, and soon gives birth to her daughter. Although much time has passed, life in Gopher Prairie proceeds as it always has.
Lewis, S. (1920). Main Street. (Lit2Go ed.). Retrieved September 26, 2023, from https://etc.usf.edu/lit2go/38/main-street/
Lewis, Sinclair. Main Street. Lit2Go Edition. 1920. Web. <https://etc.usf.edu/lit2go/38/main-street/>. September 26, 2023.
Sinclair Lewis, Main Street, Li2Go edition, (1920), accessed September 26, 2023, https://etc.usf.edu/lit2go/38/main-street/.