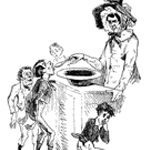 Oliver Twist is Charles Dickens' second novel. It is about a boy named Oliver Twist, who escapes from a workhouse and meets a gang of pickpockets in London. The novel is one of Dickens's most well-known works, and has been the subject of numerous film and television adaptations.
Source: Dickens, C. (1838). Oliver Twist.London, England; Bentley's Miscellany.
Oliver is born into less than optimum conditions.
Having been orphaned at childbirth, young Oliver is left in the care of Mrs. Mann. Mr. Bumble arrives to take Oliver to slightly more hospitable surroundings. After losing a bet, Oliver makes an unusual request.
Oliver, having been punished for his behavior, begs to stay at the workhouse rather than go with Mr. Gamfield.
Mr. Sowerberry decides to take Oliver on as his apprentice.
Oliver witnesses a funeral and decides the undertaking business may not be for him.
A sudden epidemic provides Oliver with the opportunity to advance. Confronted by taunts from Noah, Oliver's rage gets the best of him.
Noah tells Mr. Bumble of the previous evening's incident. Mr. Sowerberry's continued persecution forces Oliver to take drastic action.
Outside of London, Oliver becomes acquainted with Jack Dawkins. Oliver is taken to London to meet Fagin.
Oliver begins his apprenticeship under Fagin.
After going to "work" with Charley and Jack, Oliver starts to understand the true nature of Fagin's dealings. Oliver finds himself the victim of false accusations.
Oliver is taken to jail to await his appearance before Mr. Fang. The courtroom drama plays out while Mr. Brownlow begins to takes pity upon poor Oliver.
Oliver awakens in the care of Mrs. Bedwin, Mr. Brownlow's housekeeper. Oliver is greatly affected by a portrait in Mr. Brownlow's home.
Fagin is angered by Oliver's sudden absence, fearing that he will reveal the nature of his operation to authorities. At Fagin's insistence, Jack, Charley, and Nancy travel to Pentonville.
Oliver, fearing he will be asked to leave the Brownlow home, requests a favor from Mr. Brownlow. Oliver is sent to run an errand.
While running an errand for Mr. Brownlow, Oliver runs into Nancy and Bill Sikes.
Oliver finds himself back at Fagin's house, where Nancy prevents Oliver from further punishment.
Mr. Brownlow offers a reward for Oliver's return, prompting Mr. Bumble to pay a visit to the Brownlow estate.
Fagin ensures that Oliver lives a solitary life, by keeping him separate from the other boys.
Oliver is volunteered for a job with Bill Sikes. Fagin, remembering an earlier incident, keeps his eye on Nancy.
Oliver and Nancy proceed to Bill Sikes' house. Sikes gives a stern warning to Oliver.
Oliver and Sikes journey to the town of Shepperton, arriving after dark.
Bill Sikes takes Oliver to meet Toby Crackit and Barney. Oliver is sent into the house, but things do not go as planned.
Mr. Bumble pays a visit to Mrs. Corney at the workhouse.
Old Sally makes a death-bed confession to Mrs. Corney concerning Oliver's mother.
Crackit arrives at Fagin's and informs him that the robbery has failed and Oliver has been shot.
Fagin and Monks discuss Oliver's future.
Mr. Bumble and Mrs. Corney discuss the possibility of a future together.
Oliver, delirious and alone, seeks assistance after the failed robbery. Brittles is sent to fetch a doctor as well as the authorities.
Mr. Losberne tends to Oliver's wounds, while Mrs. Maylie and Miss Rose prepare to meet injured thief.
Miss Rose, surprised by the age of the would be burglar, begs Mrs. Maylie not to send the boy to prison. Summoned by Brittles, police officers from London arrive to sort things out.
With the police having arrived to assess the situation, Miss Rose and the surgeon attempt to protect Oliver from being connected with the burglary.
Oliver slowly recovers from his wounds. Mr. Losberne and Oliver travel to London. Oliver continues to bond with Mrs. Maylie and Mis Rose.
When Rose's health suddenly declines, Oliver is sent to summon Dr. Losberne.
Miss Rose receives visitors, one of which declares his love for her is solid and lasting. Oliver awakens from a nightmare to see familiar faces.
Harry and Giles rush to the aid of Oliver. Harry and Rose discuss their feelings for each other.
As Harry prepares to leave, he asks a favor of Oliver.
Mr. Bumble and Mrs. Corney find their plans fulfilled, although not everyone is entirely satisfied with the current situation. Monks questions Mr. Bumble about Old Sally.
Mr. and Mrs. Bumble meet with Monks.
Nancy overhears a conversation between Monks and Fagin, prompting her to pay a visit to Mrs. Maylie.
Nancy confesses her guilt in Oliver's disappearance before telling Rose the full content of Monk and Fagin's conversation.
Oliver is once again taken to see Mr. Brownlow. Mr. Brownlow and Miss Rose tell Nancy's story to Mrs. Maylie and Mr. Losberne.
Noah and Charlotte, set to leave for London, encounter Fagin and Barney at the Three Cripples Inn.
Noah meets with Fagin and is given his first job.
Fagin watches Nancy closely, hoping to blackmail her with any information he discovers.
Fagin employs Noah to keep an eye on Nancy.
Noah observes Nancy's meeting with Mr. Brownlow and Rose. Mr. Brownlow is affected by Nancy's description of Monks.
Noah and Fagin tell Sikes the details of Nancy's meeting with Rose and Brownlow.
Sikes attempts to flee London following the murder of Nancy.
Monks is captured and brought to Mr. Brownlow's home. Details of Monks' life are finally revealed. The search for Mr. Sikes continues.
Noah and Fagin's capture prompts Toby Crackit and Tom Chitling to hide out. Sikes' arrival at the hiding place causes an unexpected uproar.
Oliver and his friends travel to meet Mr. Grimwig. Monks reveals more information about himself and Oliver. Rose finally agrees to marry Harry.
Mr. Brownlow and Oliver pay a last visit to the ill-fated Fagin.
Oliver receives a share of what is his, while Monks comes to a fitting end. Mr. Brownlow, now legal guardian of Oliver, Mr. Losberne, and Mr. Grimwig stay close to Oliver's new family.
Dickens, C. (1838). Oliver Twist. (Lit2Go ed.). Retrieved December 06, 2023, from https://etc.usf.edu/lit2go/50/oliver-twist/
Dickens, Charles. Oliver Twist. Lit2Go Edition. 1838. Web. <https://etc.usf.edu/lit2go/50/oliver-twist/>. December 06, 2023.
Charles Dickens, Oliver Twist, Li2Go edition, (1838), accessed December 06, 2023, https://etc.usf.edu/lit2go/50/oliver-twist/.