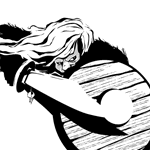 Beowulf, the epic tale of adventure that follows Beowulf as he battles Grendel, Grendel's Mother, and later becomes king. Beowulf was originally written in Old English by an unknown Anglo-Saxon poet sometime between the 8th and 11th centuries. It is one of the most important works of Anglo-Saxon literature. This translation, by Professor Francis Gummere, was first published in 1910.
Source: Gummere, F.B. (1910). Beowulf. New York: P.F. Collier and Son.
"Lo, praise of the prowess of people-kings, of spear-armed Danes, in days long sped,"
The beloved Beow takes his rightful place as heir to the throne of the Scyldings, who continue to experience prosperity.
Grendel is angered by the constant happiness of the Scyldings. The Scyldings are driven from the great hall.
Gummere, F. (1000). Beowulf. (Lit2Go ed.). Retrieved March 29, 2023, from https://etc.usf.edu/lit2go/89/beowulf/
Gummere, Francis Barton. Beowulf. Lit2Go Edition. 1000. Web. <https://etc.usf.edu/lit2go/89/beowulf/>. March 29, 2023.
Francis Barton Gummere, Beowulf, Li2Go edition, (1000), accessed March 29, 2023, https://etc.usf.edu/lit2go/89/beowulf/.