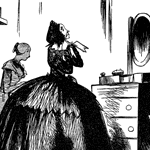 Vanity Fair is a 19th century social satire by William Makepeace Thackeray. The novel follows the adventures and dealings of Becky Sharp and Amelia Sedley.
Source: Thackeray, W. M. (1917). Vanity Fair. New York. NY: P.F. Collier and Son.
A brief introduction to the text.
Amelia Sedley and Rebecca Sharp depart from Miss Pinkerton's finishing school.
Amelia gives Becky a tour of her house. Becky is curious about Joseph Sedley.
Becky Sharp is introduced to Joseph Sedley.
Becky gets acquainted with the Sedley household.
Some history of William Dobbin and George Sedley Osbourne's friendship is presented to the reader.
A description of the evening at Vauxhall.
Becky wears out her welcome at the Sedley house. The Crawley house is not as hospitable as the Sedley house.
Rebecca describes the Crawley family to Amelia. Rebecca meets her charges.
The Crawley finances are in a state of disarray, however Sir Pitt's frivolous behavior continues.
Rebecca earns the trust of Sir Pitt.
The reader is introduced to Reverend Bute. The subject of death is taken lightly.
George's behavior bothers Dobbin.
Amelia visits the Osbourne home. Old Osbourne makes an offer George can't refuse.
Miss Matilda visits Amelia. Sir Pitt presents Becky with a proposition.
Becky's refusal is explained. Sir Pitt's discovery sends him into a rage.
The Sedley state is auctioned off.
Dobbin makes a purchase for Amelia.
Napoleon is blamed for a number of problems.
Mrs. Bute Crawley attempts to protect Miss Crawley.
Dobbin assists Amelia and George.
Old Osborne has his own plan for George. George defies his father wishes.
Joseph, Rawdon and George receive orders.
Dobbin's and George's friendship is further explained.
Dobbin delivers a letter to George.
Amelia fools everyone but Dobbin. Rawdon's disappointment amuses Becky.
A description of George and Amelia's life.
Amelia's appearance affects George's regiment. Mrs. O'Dowd has plans for Glorvina and Jos.
Amelia's heart is troubled as the continues to follow the regiment.
George rethinks his choices, turning to Amelia once more.
The men of Vanity Fair say their farewells as the depart for battle.
As requested, Joseph stays behind to take care of the women. Isidor and Rebecca each have plans of their own.
Joseph flees as rumors of defeat spread. Peggy and Amelia care for the wounded. George's time at war ends.
Miss Crawley receives various tokens of appreciation. Lady Jane makes a positive impression.
James falls out of favor with Miss Crawley. Angered by correspondence from Rebecca, Miss Crawley makes a declaration to Pitt.
News of George's fate reaches the elder Osbourne. George's final wishes are not honored. Amelia, accompanied by Dobbin, returns home.
A brief essay by the author is presented to the reader. Rawdon and Rebecca continue to live on chance. An earlier incident involving Rawdon is revisited.
Rebecca makes a deal before returning to London. Rebecca and Rawdon make arrangements with Mr. Raggles. Rebecca receives word of Miss Crawley's death and inheritence.
Rebecca behaves as expected. Little Rawdon makes a new friend. Amelia devotes her time to little George. Amelia is affected by news from Dobbin's Sister.
Bute mourns his loss. Mrs. Bute catches Miss Horrocks in the act. Sir Pitt's health takes a downturn forcing young Pitt to make a decision.
Pitt sends an invitation to family. Rebecca continues to make grand plans.
Becky attempts to make a good impression, hoping to benefit from the visit.
Mr. Osborne makes a deal with the Bullocks. Word of little George reaches the elder Osbourne.
The reader is taken to the Indian Empire with the Madras division. Mrs. O'Dowd makes a decision regarding Dobbin and Glorvina. Dobbin makes a request on account of Amelia.
Becky continues to work her way into Vanity Fair. The Rawdon Crawleys spend the holidays at Queen's Crawley. Lady Jane is not impressed by Becky's behavior.
Sir Pitt and Lady Jane visit the Rawdon Crawleys in London. Rebecca's attention to Sir Pitt does not sit well with Lady Jane.
The Dobbin sisters attempt a reconciliation. The elder Osborne makes Amelia an offer.
Tom Eaves gives his opinion. Lord Steyne is troubled by his son's situation, but continues to distract himself with lavish parties.
Becky's ambition is finally realized. Becky receives assistance from Lord Steyne.
Lord Steyne makes a strong suggestion to Lady Blanche. Becky meets a sympathetic party and continues to make a positive impression.
The Sedleys continue to suffer hardships. Old Osborne wins his war of attrition with Amelia. Amelia is impressed by her son's kindness to others as she keeps an eye on him from a distance.
Becky continues to the people of Vanity Fair with her charm, but many question the source of her wealth. Rawdon's debts catch up with him.
Rawdon is saddened by his son's departure, Becky however is unaffected. Lord Steyne's suspicions lead him to question Briggs.
Rawdon becomes suspicious of Becky, and requests assistance from Sir Pitt. Rawdon makes a discovery upon returning home.
Rawdon has a request for Pitt. Macmurdo attempts to calm Rawdon.
Becky awakes to find that her situation has changed. Lady Jane gives Sir Pitt a choice. Rawdon receives some favorable news.
Old Osborne has plans for little George, attempting to make amends for his previous actions. Amelia makes a friend in order to see George. Dobbin inquires about Amelia.
Amelia continues to feel a sense of obligation and duty, devoting her life to her father. Major Dobbin heads home and runs into an old friend on the way. Upon the receipt of good news, Dobbin's spirit is lifted.
Jos and Dobbin get a good nights sleep. Dobbin prepares for a reunion of sorts.
Mr. Sedley gets his house in order. Jos makes a promise to his father and Amelia. Dobbin makes a declaration to Amelia, but is disappointed with her reaction.
Little George returns, as does good fortune, to the Sedley house.
Two family patriarchs pass away without full reconciliation. Amelia's newfound wealth brings a new set of "friends".
Joseph, Amelia, Georgy, and Dobbin depart for the continent. Amelia starts to appreciate Dobbin's presence.
Joseph decides to stay. Amelia continues to enjoy herself. An old acquaintance makes an unexpected appearance.
Becky's life after Rawdon is told to the reader.
Joseph pays a visit to Becky. Dobbin departs after a heated discussion.
Becky is ambitious once again. Amelia sends correspondence to Dobbin. Becky reveals a note to Amelia before Dobbin's arrival.
Willam Dobbin and Amelia reconcile with each other. Becky visits Joseph with less than honorable intentions. Rebecca's ambition pays off financially, but leaves her friendless.
Thackeray, W. (1917). Vanity Fair. (Lit2Go ed.). Retrieved September 28, 2023, from https://etc.usf.edu/lit2go/97/vanity-fair/
Thackeray, William Makepeace. Vanity Fair. Lit2Go Edition. 1917. Web. <https://etc.usf.edu/lit2go/97/vanity-fair/>. September 28, 2023.
William Makepeace Thackeray, Vanity Fair, Li2Go edition, (1917), accessed September 28, 2023, https://etc.usf.edu/lit2go/97/vanity-fair/.