Email is often used to distribute viruses and other malicious programs that can harm your computer. These programs are often distributed as attachments that will install the malicious application on your system when you click to open them. You may receive an email that appears to come from Microsoft or another legitimate source, including images and other branding to make it look legitimate.
The best way to protect yourself against these types of attacks is by never opening attachments in unsolicited emails. Even if you get an email from someone you know, if you did not request it there is still a chance that it could be a fake. Many sophisticated viruses can browse a user's address book and use addresses found there to send emails with their payload (the executable file that will cause the damage on your system when it is received and opened). Even if you know the person who sent you the email, if it has an attachment, you should take some precautions.
The most basic precaution you can take is to create a folder on your computer where you will save all attachments instead of opening them directly in the email application. Once you have saved an attachment to this folder, use your anti-virus application to run a scan on it (and make sure you keep your anti-virus application updated with the latest definition files).
Another thing you can do to protect your computer when you use email is to turn off the preview pane that allows you to preview the contents of your emails underneath the message list. Some viruses only require you to preview the message in order to infect and harm your system. To turn off the preview pane in Outlook 2003, select View, Reading Pane, Off from the application menu. In Outlook Express, select View, Layout, then uncheck the box next to Show preview pane.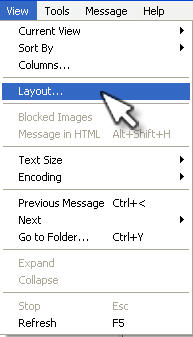 In Thunderbird, select View, Layout, Message Pane to toggle the preview pane on and off.