Exposé is a window management application included in OS X. Exposé allows you to view all open windows using a keystroke, giving you a quick way to find the one you want to open. To activate Exposé, press the F9 key on your keyboard. All of the windows you have open will be displayed as thumbnails, scaled so that they can all fit on the screen. When you use your pointer to hover over one of the windows, the title of that window will be displayed and it will be highlighted. You can click on it to make it the active window.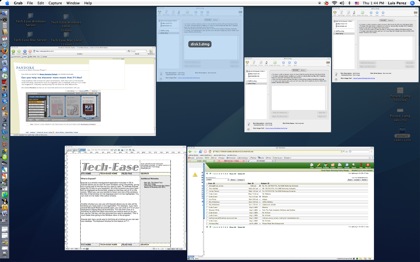 Another shortcut you can use with Exposé allows you to view all the windows you have open in one application. For example, if you have several Microsoft Word documents open, you can click on F10 on your keyboard to display them as thumbnails. You can then click on a thumbnail to select the Word document you want to work on (or you can use the Tab key until the document you want is selected). This is much faster than going to the Window menu in the program.
Exposé also has a quick way to minimize all windows so you can see your desktop. The keyboard shortcut for this feature is F11.
See It In Action

Expose (29s, 2 MB)

This movie shows you how to use Expose to view all the windows you have open at the same time.